Many species of bird migrate seasonally, usually along a flyway. In many cases, the flyway is defined by natural water barriers such as oceans, rivers, and seas. Bird migration has been going on for a very long time. Many ancient cultures noted this phenomenon and even recorded it. The same patterns continue to date, although the birds now suffer because of the destruction of their stopover sites and wintering habitats.
This phenomenon happens for many reasons. Birds primarily move because of the availability of food, and this is normally influenced by changes in seasons.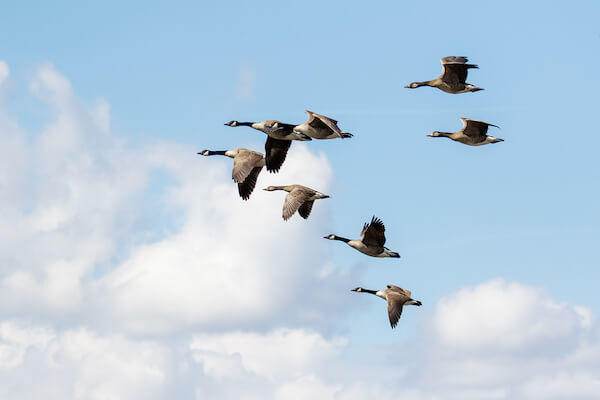 Which Birds Migrate?
Not all birds migrate. In fact, some sedentary birds can never move more than a kilometer from their birthplace.
---
That being said, about 40 percent of the world's bird species migrate regularly. That equals around 4,000 bird species.
---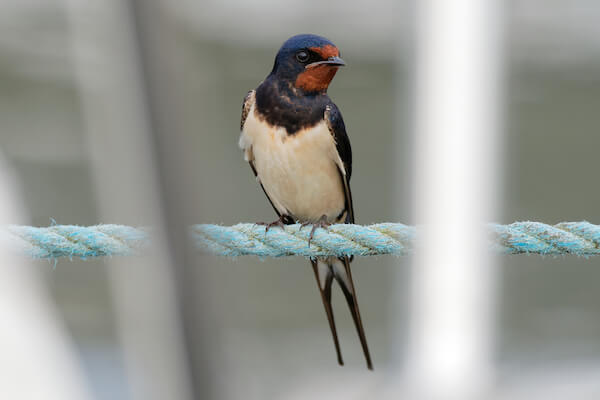 The best known migrant species are the northern land types such as the swallow and the birds of prey.
These migrate from Europe to Africa during winter. As you would expect, regions such as Canada, Europe, and the USA have higher proportions of migrant birds compared to tropical regions. This is because the birds need to escape winter in these regions. In this season, predator birds such as insect eaters have to migrate in search of food.
Some species of bird migrate to Europe in summer so as to breed. Once the season is over, they move back to their regular homes, along with their offspring.
Birds that migrate to Europe include:
cuckoos
turtle doves
terns
hobbies
ospreys
yellow wagtails
Other seabird species also spend their spring season at the shores of the oceans. One of the species in this category is the gannet.
Certain bird species find food more easily in winter. These migrate to colder regions when the weather gets warmer. Such types include geese, ducks, and other wading birds. For them, winter seasons are milder.
After arriving at their destinations, some bird species will still move in large numbers to other places. This phenomenon is referred to as
bird irruption
. The event is normally caused by a depletion of the available resources. Such events occur very rarely, and only a few bird species have been noted to irrupt.
They include:
Bohemian waxwings
Boreal chickadees
Purple Finches
Common redpolls
Northern shrikes
Varied thrushes
Snowy owls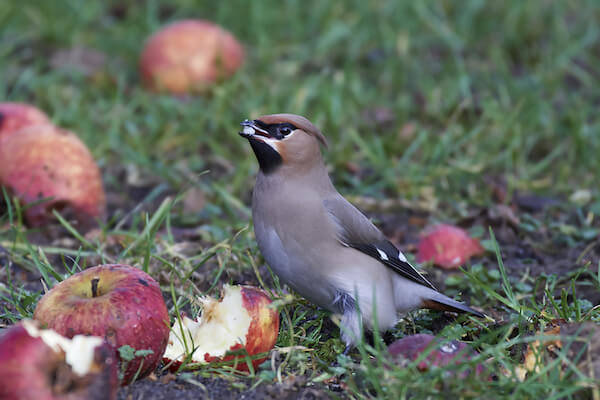 Related Reading:
Why Do Birds Migrate?
Birds migrate for many reasons. As noted, their primary motivation is the availability of food. For certain species, food is hard to get in winter, meaning they have to find warmer places to stay if they have to survive. On the other hand, some species have to stay in cold places since they will be able to find food easier in this specific weather. Usually, the birds fly back to their original homes after the season.
In some cases, birds will even migrate in large masses once their food reserves in one place are depleted. For example, if they move to a warm place and the population ends up growing too large for the available food, the birds will move to a neighboring place. This phenomenon occurs once in every 2 to 10 years.
Migration can also be simply influenced by the harsh weather. Some birds cannot survive comfortably in extreme winters and as such, have to find more temperate regions.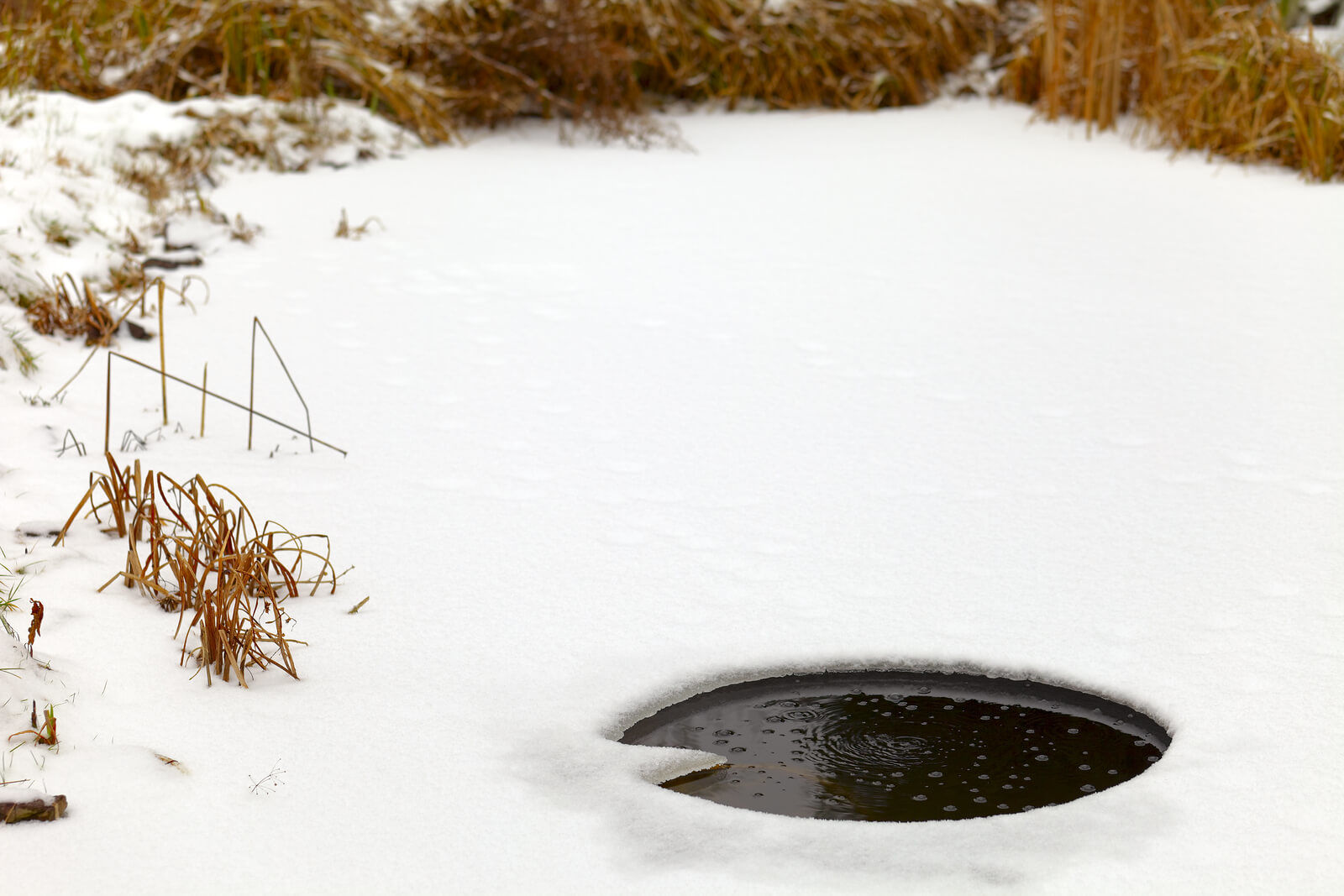 ---
Changes in day length also influence migration. Breeding birds prefer regions with longer days since they have more time to feed their offspring.
---
Species such as the shelduck migrate
in order to molt
. All birds shed their feathers every year. However, birds such as shelducks lose all their feathers and are completely unable to fly till they grow back. For this reason, they migrate to places that are perceived to be safer.
Bird migration is also influenced by changes in the quality of seed crops. Those that eat these crops move as soon as the trees start to give poor products.
How Do Birds Migrate?
Birds generally migrate north and south. Bird watchers have discovered patterns in their migration. One notable migration pattern involves the birds moving northwards to temperate or Arctic summer, mainly for breeding purposes. In the southern hemisphere, the birds fly southwards to temperate regions for the same reason.
Not all bird species migrate north, south, east or, west. Some simply migrate up and down or vertically. For example, in winter, the birds may move to lower areas in search of more tolerable climate and food. One species known to migrate vertically is the snow bunting.
---
Some birds are referred to as passage migrants. This means they will stop over at a specific place for a few weeks, then carry on with their journey. The birds usually do this because they need to rest and get re-energized.
---
The migration of birds usually starts in a broad front, and this later develops into a narrower route. These routes are referred to as flyways and are commonly defined by water bodies and other natural barriers. Birds don't usually fly over large water bodies. Instead, they choose to fly just along the river or ocean. The flyways may also be influenced by wind patterns.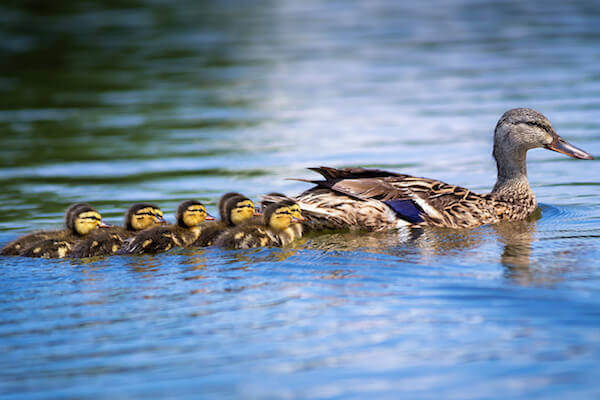 Migration routes and wintering grounds are determined traditionally and, in many species, the knowledge appears to be genetically determined. In species such as the white stork, the eldest member of the flock leads the birds during migration. Younger members of the flock take these opportunities to learn the migration routes. Some bird species have not been around for long enough to have their own learned migration routes. Most of these follow genetically determined routes during migration.
Almost all birds move in flocks and a formation. For example, geese usually fly in a V formation. Flightless birds such as penguins also migrate in flocks, although they swim instead of flying.
Some birds choose to travel in the night, probably as a way of conserving energy and staying safe from predators. These are referred to as nocturnal migrants. To maintain the pattern of the formation and prevent collisions, these birds make use of nocturnal flight calls.
Further Reading:
Equine assisted therapy is an alternative therapy often employed in the treatment of mental health issues, including addiction and anxiety, as well as physical health disabilities. It covers a variety of treatments and is used by many different types of medical professionals, including psychologists, physical therapists, occupational therapists, social workers and more. Equine assisted therapy is not a new concept and it has very ancient roots. As with any alternative therapy, it often raises concerns among professionals who believe it should not take the place of more evidence-based treatments.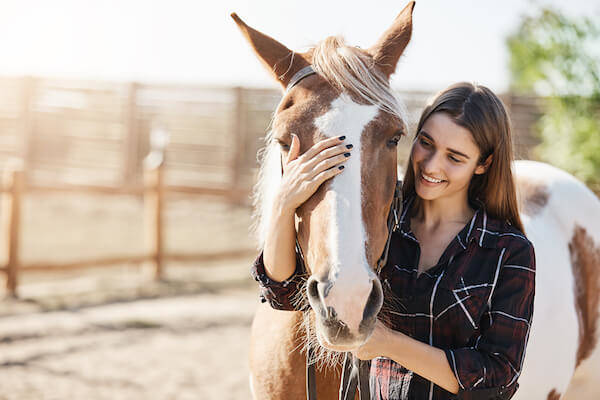 What is the history and origins of equine therapy?
Horses have long been used in a therapeutic capacity, and therapy using horses can be traced back to the ancient Greeks. The ancient Greek physician Hippocrates wrote about using horseback riding as a therapy for those with incurable diseases. In the modern age, 17th century medical writers discussed using equine therapy for conditions such as gout, depression and various disorders of the nervous system. As early as 1946, a poliomyelitis outbreak in Scandinavia was partially treated with equine therapy.
The current form of equine therapy began in the 1960s when countries such as Germany, Switzerland and Austria began to add it as an additional therapy within the confines of regular physical therapy. The treatment was supervised by a physiotherapist and included a horse specifically trained for the task and its handler. The therapist gave directions to the handler in guiding the horse's movement.
Late in the 1980s, Canadian and American therapists would bring the treatment back to North America after traveling to Germany to learn how it was used and devised. It received formal recognition in the United States in 1992 when the American Hippotherapy Association was conceived.
Riding horses as a therapy received further modern validation when Denmark's Liz Hartel used the discipline to win Olympic silver in 1952 in dressage, despite being paralyzed from polio. At the same time, Germany was also using it to treat other orthopedic issues like scoliosis. The 1960s saw therapeutic riding centers open throughout North America. With these centers also came the formation of two groups: the North American Riding for the Handicapped Association and the Community Association of Riding for the Disabled. As of 2011, the former group is now known as the Professional Association of Therapeutic Horsemanship.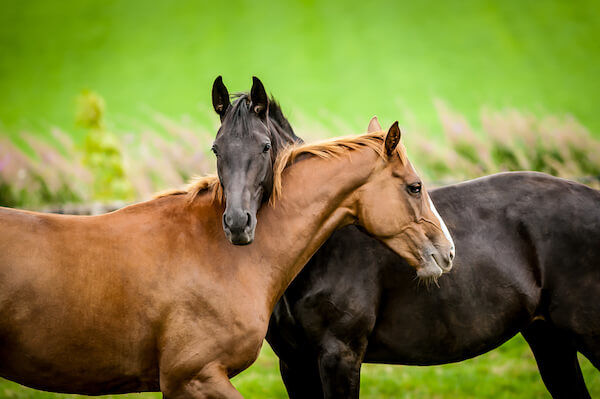 Do therapy horses need any specific training?
Therapy horses receive specific training and have a number of desired traits. Horses selected for training should have three distinct gaits, physical soundness, a gentle temperament, ability to tolerate lots of attention, a calm demeanor and a height somewhere between 14 and 16 hands. Breed usually doesn't matter, though Quarter Horses in particular often have the desired characteristics of therapy horses. Conversely, a more high-strung breed like the Arabian may not be a good choice, but horse personalities vary widely, even within a specific breed.
Once a good therapy horse candidate is identified, it is exposed to the type of work it will be used in during therapy classes. The horses are taught to walk calmly behind the handler's shoulder and use body language cues to speed up or slow down. Horses are also exposed to a variety of noises, including music, enthusiastic people and toys. Such situations are introduced slowly to therapy horses in training along with much positive reinforcement. Once the horse has shown itself to react calmly and without fear to a range of stimuli used in therapeutic riding classes, then it can be used in a real therapy situation.
How effective is equine therapy?
The effectiveness of equine therapy is widely debated depending on what it's used for. Scientific literature often cites inadequate data for the usefulness of equine therapy for people with orthopedic issues, or even mental health issues. Many reviews of the discipline argue that the quality of research for its effectiveness is poor, though they also conclude that the treatment doesn't do any harm either.
However, mental health issues do not always positively respond exclusively to traditional medical treatments either. Sometimes those in treatment for addiction and other behavioral disorders have a difficult time communicating with other people. Horses have distinct personalities just like people, but they are also silent and non-judging. Research has shown that patients interacting with horses have reduced stress, heart rate and blood pressure. They also show increases in positive feelings like patience, trust and self-esteem. Often these patients have a hard time relating to other people, which can make it difficult for psychotherapy to have much effect. These same people often do not have a problem relating to horses or other animals.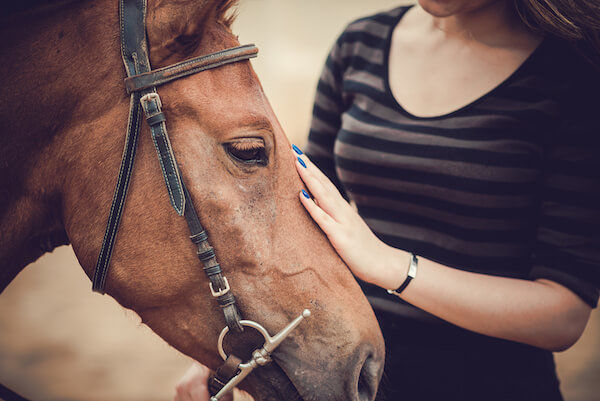 Communicating with horses requires much patience and sensitivity. Horses are known to reflect the moods of people they interact with, which requires patients to go outside of themselves to better respond to the horse.
What other animals are used in therapy?
Horses aren't the only animals used in this type of therapy. Dogs, cats, birds and even reptiles can be used in a therapeutic environment. Dogs are still the most popular animal used in a therapy situation. Dogs are natural companion animals and many breeds take well to this type of training. Both large and small breeds of dogs may be used as therapy animals.
Cats are probably the second most commonly used animal, but do not have the range of uses like dogs do. Cats may be found in nursing homes especially as they can wander about freely and lay with patients. One recent example of a therapy cat is with Thula the Maine Coon cat who helped a six-year old girl with severe autism become less withdrawn and more social.
Bird are fairly common as well, and especially parrots. Not only can parrots be taught to speak, but they are known for showing high levels of empathy. Smaller animals like reptiles, hamsters and rabbits can be used to improve concentration, attention and motor skills. Taking care of any kind of animal requires a certain amount of focus and affection.