Dogs are known for being able to digest almost anything. From watermelon bites to socks, nothing passes by a hungry drooling canine. Similarly, if you're also a cat owner, you've probably noticed that your pooch sometimes likes to munch cat food more than its own. On top of that, many owners give cat treats to their dogs believing there isn't much of a difference between the two.
But what is so great about cat food, anyway? More importantly – is it in any way harmful?
Although it's not an alarming issue, there is a reason why these two animals eat different types of food. Differences in nutritive and calorie value can potentially lead to some digestive or weight problems in dogs. Don't panic if it happens as a one-time occasion, but make sure it doesn't turn into a regular habit.
Here are some main reasons why it's best not to keep cat food around dogs and tips on how to prevent them from eating it.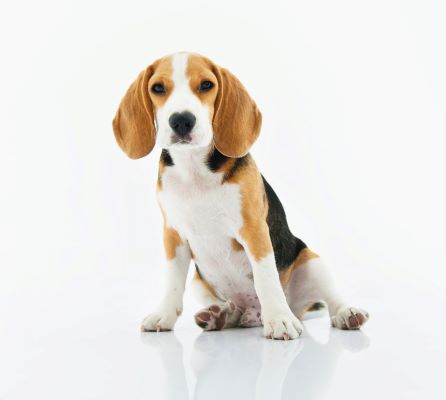 WHAT'S SO TEMPTING ABOUT CAT FOOD?
Physically, dog and cat food appear very similar. They both come in the form of dry kibble or canned goods, cookie treats and snacks of similar shape and size, with even similar smell. Yet, when it comes to the ingredients, they are quite different.
|Few pet owners know that cats and dogs have different dietary requirements. Cats are obligate carnivores, which means their primary source of energy is meat-based food.  Dogs, on the other hand, are omnivores, animals that eat both meat and vegetables, so their nutritional requirements include a diet richer in vitamins, fiber and minerals.
In fact, dogs have similar nutritional needs to humans. It's made with some of the same proteins, carbs, fruits, veggies, and supplements that comprise your daily diet. Some owners prefer feeding their dogs with their food leftovers, or preparing home-made meals for dogs that consist of the same stuff that people eat, like rice, meat, cooked vegetables, corn, bread and more. Although essentially non-problematic, make sure to be properly informed about your dog's nutritional needs if you make his meals on your own. Depending on their size, age and breed, dogs will need different ingredients for proper growth and healthy functioning.
Cat food is predominantly meat, or processed food rich in protein and fat. Simply put, fatty and meaty food is very tasty, it smells tempting and appealing, which is probably why dogs prefer their fellow kitty's bowl more.
On top of that, when you have a dog looking for something to eat even though his bowl is full, you may question the type and quality of what you've been feeding him so far. Different dog breeds may enjoy different flavor, while puppies need food richer in protein than adult dogs. Sometimes it's about the food brand, so try out different things until you see your four-legged friend satisfied. Luckily, there's an array of resources online, for example Totally Goldens and similar, providing useful information on pet feeding and supplements to help you decide on what's best for your dog.
WHY CAN'T I JUST LET MY DOG EAT IT?
Although your pooch won't end up in the emergency room, if fed cat food frequently, he or she may suffer from some digestive problems, nutrient deficiency and weight problems.
The lack of fruits and vegetables may lead to some gastrointestinal problems in dogs, such as pancreatitis or acute gastroenteritis. Even if there aren't any strong symptoms of illness, in the long run the high level of protein may do some damage to your dog's kidneys and liver.
 WEIGHT GAIN
Animal obesity is something to be blamed on the owner. The less is presented in front of a dog, the less they'll have a chance of gaining unnecessary weight. Apart from having different ingredients, cat food is much heavier in calories than dog food. While an occasional odd mouthful won't do any harm, if fed regularly with cat kibble, dogs will definitely gain weight fast. An overweight dog has less chance of living a healthy and quality life.
NUTRITIONAL DEFICIENCY
Since food for cats isn't designed to meet dog's dietary needs, it is not advisable feeding canines with it in order to avoid nutritional deficiency.
Dog and cat bodies function differently. Sometimes dogs need several supplements in their food that cats don't, and vice-versa. For instance, dogs have the ability to convert beta-carotene into vitamin A, so foods rich in it, such as carrots, are common in dog kibble. Cats, on the other hand, need to be given vitamin A supplements, since they don't have the same ability, so carrots are not put in cat food. Similarly, dogs produce taurine on their own, while cats need to obtain it in their diet in the form of supplements.
These and similar differences in metabolism functioning are the main reason why there are specific rules for making pet food. Mineral, fiber and vitamin deficiency can lead to some long-term health issues.
Pancreatitis (inflammation and infection of  the pancreas) is one of the nasty side effects of eating foods high in fats. Although this is not only specific for cat food, it may lead to intestinal problems if not put under control.
Finally, we forget that dogs can be like children – if they like something, they'll find their way to get it. Pickiness is not rare in dogs, so make sure to be a strict parent when you discover your furry friend is sneaking on forbidden food.  Try to look at it as junk food for dogs – it's delicious and addictive, but definitely not healthy. The good thing is, you are the one to control the situation.
MY DOG ATE CAT FOOD – WHAT DO I DO?
Again, apart from a little vomiting or diarrhea, there's nothing to be worried about. After you've discovered your dog has access to cat food, think about feeding the animals in separate rooms.
Also, try feeding them at the same time to avoid any possible intruding into one's lunch. This way, your cat will make sure the dog isn't touching her bowl and the pooch will have to satisfy himself with the low-calorie kibble.
Another neat solution is considering automated feeders that can be programmed to react to specific triggers, like a cat's collar, or to make food available at a specific time. While you go for a long walk with Rover, Fluffy can have her meal in peace.
Cats are nimble climbers, so use that to their advantage. Simply put a cat's bowl or a feeder in an elevated place (on a table or a shelf) that is out of dog's reach.
All in all, you shouldn't be worried about your dog favouring cat food. It's a common phenomenon and it happens for a reason. When you understand how your pets' diet works and what they need to be healthy and well, it's easy to know when to react and what steps to take. By following these tips, your dog will be back on track with his eating habits, so your beloved furry friends can live in peace, safe and sound.
About: Simon Dupree has loved dogs since he was a boy. In his free time, he enjoys the outdoors and walks in the park with his two-year-old golden retriever. If he is not writing for Totally Goldens he is probably out exploring the world with his pawsome friend