One of the many problems homeowners have with their pets is assisting them through the door whenever they want to get in and out of the house. The best solution to ease the owners' task and allow the pets to move about freely, is to install a pet door that leads to the front or backyard towards a fenced area where they can play or do their needs.
Installing a dog door can cause safety issues for the home sometimes but with proper guidance, the benefits of pet-proofing a home outweigh the obstacles by far.
Installing a secure dog door can give you peace of mind as the newer versions are designed to keep intruders away. Dog owners will also have more time to relax as the dog will be able to relieve itself or go out to explore and play around and re-enter the house whenever it wants.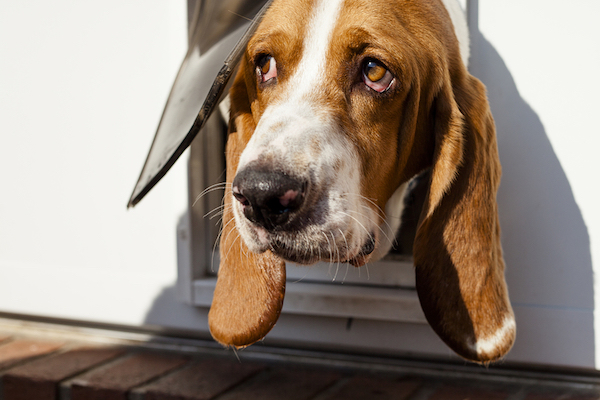 Some of the different kinds of pet door installation that you can choose depending on your lifestyle are:
Electronic/ microchip doggie door for keeping other animals out
How to keep cats from going out the dog door? Technology has upgraded even classic flap doors. There are pet door installations equipped with electronics or microchips that allow only your pet to enter and exit which prevents critters such as mice, raccoons from entering the house by identifying your dog through the key-collar.
Weather-tight pet doors
These kinds of doors stop drafts to prevent air conditioning and heat loss as effectively as a dual pane glass. They are made to withstand extreme heat and insulated enough to prevent cold wind and rain from seeping in.
Sturdy pet doors for energetic dogs
These designs are for durability and heavy duty. The frames of the door are usually sturdy aluminum frames, and the flaps are built to withstand damages from continuous use.
Related Reading:
Puppy Proof Fences for the Yard
Your Gide to Dogs Ownership
Caring for an Older Dog
Get Pet Insurance
To install an efficient dog door at your home, some of the crucial things worth considering are:
Location
Choosing the right place requires you to ensure a safe roaming area for the dog. Depending on your choice of whether you want the dog door on the wall or the door, and after considering the convenience of your house appliances, decors, and settings, take the size of the dog into account.
A patio door differs from a wall door in construction material, installation, and depth. So before buying a pet door, decide on the location that is most convenient to your home settings.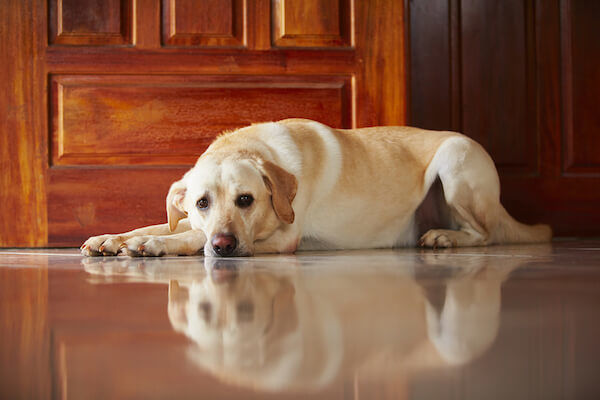 Weather
Depending on the amount of snowfall, rainfalls, and the climate of your house location, consider installing a dog door. If you live in snow or rain prone area, there are chances of it getting into your house during the summers or winters. It might be a good option if the door does have moving parts that allow proper insulation during extreme weather to prevent a messy house or to strand the dog outside.
What Size Dog Door Do I Need?
Dogs vary in size so if you have multiple dogs you should consider an installation that can be easily accessible for both small and larger pets.
An extended narrow door usually works better than a broad one as most pets generally adjust their shapes to fit through tiny areas as long as they have proper leg space. It is vital especially when the dogs get older as they might not be as enthusiastic about bending and crawling through small openings.
Is your home rented or privately owned?
Some landlords might not want you cutting through the wall or the door. By choosing a sliding door or window, you can train your pets to get in and out through them.
Now that you have a clue about what to consider before getting the type of pet door, some tips to remember with the installation are:
Make sure you have an accurate measurement of the dog to cut out the door before you purchase it. Even if they are puppies, consider the maximum size that they are expected to grow. Also, read the instructions thoroughly and be informed about the installation process, sealing, type of door, and maintenance required.
You should also examine the material of the exterior door to fix the doggy door. Whether it is made of wood, fiberglass, or metal, knowing the physical condition of the door can help you pick the right door for your pet.
Once you have decided to go through the process of installation, it is usually required to unhinge the door for more accurate measurement and to fit in your workstation.
Fix the dog door at an appropriate height of about 3 inches from the bottom edge of the door. This method not only keeps the integrity of the door intact but it is also comfortable for the dog to enter and exit quickly.
Most DIY dog door kit comes with a measurement template. Use it to mark the right places to cut the door and place the screws, or you could hire an expert to install it.