According to reports from NOAA, more than 40 percent of Earth's oceans have been negatively impacted by humans. What some people do not realize though is that there are things we can do to change that.
Tips on Protecting the Oceans
Recycle, reduce, and reuse

The reported volume of plastic waste floating in our oceans is shocking. Recycling is helpful. It is also a good idea to reduce the number of disposable products and packaging. Use reusable grocery bags, and reusable containers as well. Finally, stop using such things as plastic utensils and straws.

Reduce energy use and be aware of your carbon footprint

Be aware of your energy use to help reduce the impact of climate change. Walk or ride a bicycle whenever possible. Use the stairs instead of an elevator. Use energy-efficient light bulbs and fixtures and unplug any appliances you do not use daily.

Eat only sustainable seafood

The FAO (Food and Agriculture Organization) states that 75 percent of Earth's fisheries are fully exploited, overexploited, recovering from overexploitation, or significantly depleted. So eat sustainable fish. The popular Monterey Bay Aquarium even offers a free app called Seafood Watch which can find restaurants and markets that offer sustainable fish to make it easy.

Buy products that are ocean-friendly

Some cleaning and cosmetic products are made via environmentally harmful and unsustainable methods. Select non-toxic cleaning products instead of harsh chemicals and bleach. Numerous chores can be handled using such things as baking soda, lemon juice, or vinegar. Choose cosmetic products that consist of organic materials.

Be responsible when traveling the oceans

Be responsible when you engage in such watersports as boating, diving, jet-skiing, kayaking, parasailing, swimming, and water-skiing. Don't throw anything into the water. Be certain to know about marine life in the surrounding water. If you choose to take a cruise for a vacation trip, choose the option that is the most eco-friendly.

Don't purchase products made from sea life

As a tourist in any particular coastal community, you 'll come across souvenirs built from sea life. Avoid buying coral jewelry, sea turtle shells, shark fins or teeth, and any kind of cosmetics that include ingredients from whales. These things are connected to unsustainable fishing and even the destruction of undersea ecosystems.

Clean up garbage at the beach

Beach litter is a major portion of the plastic that's in the ocean. A fun day at the beach shouldn't endanger the oceans. When you go to the beach take a bag for your litter. Join a beach clean-up group. Divers can join special dives and clean the ocean's floor.

Support groups that work to protect the oceans

Several organizations and institutes are working to protect marine life and ocean habitats. You can donate money or even join one or more of said groups. Additionally, you can volunteer to help educate others about this issue.

Tell others

Tell your friends, family, and neighbors too. Visit your local grocery store and urge them to sell only ocean-friendly and sustainable products. If you notice any threatened species at their seafood counter or dine out and see one on the menu, encourage them to make changes. Prior to voting, learn where the candidates stand on ocean policies and vote accordingly.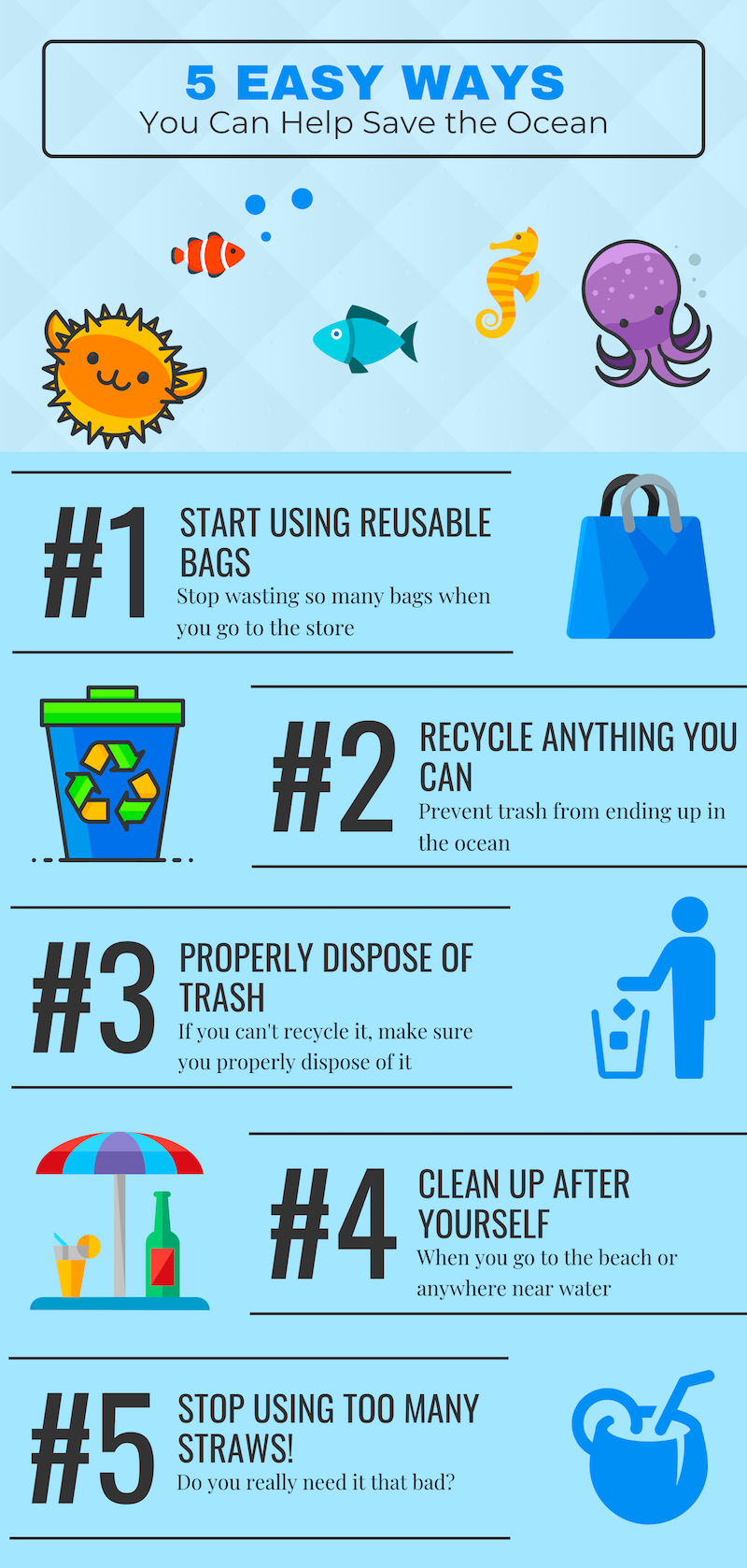 Related Reading