Cleaning doesn't sound exciting in the list of activities that are included in your household chores. If you have pets, home cleaning for you demands more attention. The level of allergens and pet hairs floating all over the house can affect your breathing system.
Moreover, taking a bulky vacuum cleaner and moving it around the house may sound even more disappointing. So, investing in a canister vacuum can excel in terms of flexibility and versatility. These vacuum cleaners are lightweight and portable maneuvering easily with their wheeled units.
The canister bodies are specially designed to clean smaller dirt, debris, and pet hairs accommodating bigger dirt compartments. So, choosing the best canister vacuum for pet hair can be a little tricky.
In our article, we will identify a list of canister vacuums that are ideal to tackle all those pet hairs.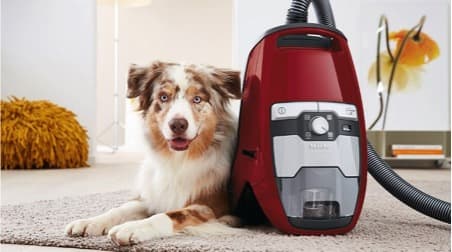 Best Canister Vacuum for Pet Hair
Miele Complete C3 Cat and Dog Canister Vacuum
If you are struggling with the pet hairs of your dog or cat then have a look at the Miele Complete C3 Canister Vacuum. It works perfectly on the floors but it's even better when it comes to gliding on the super soft and dense carpet. Being lightweight, you can easily take this device to different corners of your room.
With an assortment of accessories, it is easy to go low under furniture, tight corners, and chair legs. The active air filters within this vacuum cleaner help to eliminate the pet smell and odors from the air. Miele Complete C3 makes home cleaning for you effortless!
Dyson Cinetic Big Ball Animal Canister Vacuum
Choosing the best canister vacuum for pet hair becomes easier with the Dyson Cinetic Canister Vacuum. This device gives you the freedom to operate the vacuum stick without any extra bags and filters. It does an excellent job in removing the pet hairs from the floors and carpets along with picking the fine debris.
The compact design doesn't disappoint you as it can be maneuvered smoothly with its rotating wheels. The plus side is the built-in scraper that cleans the filters and prevents microscopic dust from clogging the opening and reducing suction.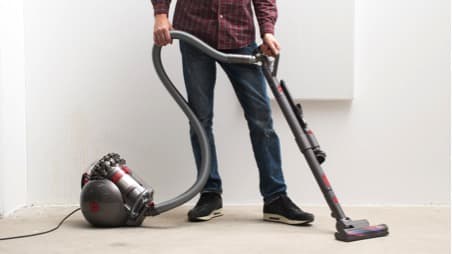 Does the small square footage of your apartment bother you to invest in a vacuum cleaner? Home cleaning for you can be feasible if you pick the compact machine of Eureka Mighty Mite that doesn't fall short of power. It becomes convenient to reach the hard corners with the upholstery nozzle, crevice tool, and dusting brush.
It works flawlessly on different surfaces like hardwood or linoleum collecting pet hairs. With a semi-handled configuration, cleaning the shelves and staircases are also convenient.
Cleanest Dog BreedsHypoallergenic Dogs
Kenmore BC3005 Pet-Friendly Canister Vacuum
Don't hesitate choosing the best canister vacuum for pet hair, Kenmore BC3005. The enhanced HEPA filter powered with the Allergen Seal System traps almost 99.97% of dust, debris, and danders around the corners. The aluminum telescopic wand with an extendable length of 9.5` is suitable for cleaning furniture, interiors, tight spaces, and even cars.
Now you can easily switch between the floors, ceiling, and upholstery with its quick transition mechanism. Moreover, the 4 height adjustment levels are designed for optimal airflow and cleaning efficiency on different surfaces.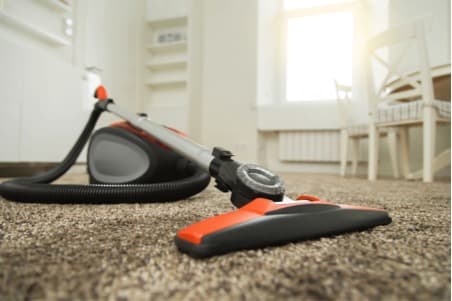 Atrix AHC-1 Turbo Red Canister Vacuum
The right amount of suction is crucial when it comes to clean the home with vacuum cleaners. Home cleaning for you with Atrix AHC-1 facilitates variable suction speeds with 1400 watt variable motor speed. The smaller size makes it convenient for storage in the house without consuming too much space.
It ensures hygienic cleaning with its 6 quart HEPA filter bag that traps dust, pollens, mites, pet dandlers, and other harmful particles. With 17 height adjustable settings, it becomes much easier to reach the corners.
Bissell Zing Canister Bagless Vacuum 2156A
Cleaning home becomes reliable with the Bissell Zing Canister Vacuum. The powerful cyclonic technology sucks almost every dust particle and pet hair from even the difficult corners. The reason we included this power performer vacuum is due to its ability to clean dandlers from multiple surfaces rugs, carpets, and hardwood floors.
The swivel steering and lightweight design make it convenient for maneuvering and even carrying it with an integrated handle. Now cleaning the dirtbags and filters involves no hassles as it simply requires opening the lid of the dirt cup. We also have to mention its auto cord rewind option, which allows rewinding the cord with a single button.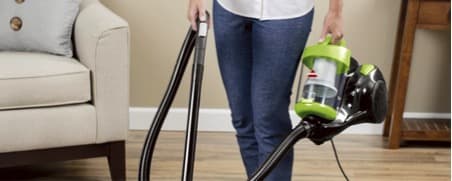 Bottom Line
With several options available in canister vacuum, home cleaning for you can become a delightful process. It is important to have a weekly cleaning schedule when you accommodate pets inside your house.
Pet hairs can be dangerous as they can cause many critical health ailments. So, choosing the best canister vacuum for pet hair is essential.
Further Reading