While the purpose of our site is to provide all the information needed for proper pet care, it doesn't mean our posts don't have to be entertaining as well. Who doesn't love to look at pictures of cute furry little animals? If you like hamster pictures, you've come to the right place. We have pictures of hamsters of all kinds; doing all sorts of things hamsters do.
Click to Enlarge
Submit Your Hamster Pictures
If you would like to share your hamster pictures with us, send an email attachment. Feel free to give us a short description of your pics and don't forget to tell us your hamster's name. Likewise, if one of these pictures of a hamster belongs to you and doesn't wish to have it posted on our site, send us an email and we will gladly remove the pic.
Submitted by Our Users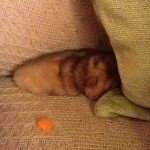 Hi, my name is David, the one in the attached picture is our sweet Cerebro, it's a Syrian hamster. We have had it for now three months, and he's the sweetest pet we've ever had. I came across your website and found it very useful for tips and advice. Thank you for sharing it.
He's got used to us and very tamed now, we won't shy away from us and he loves sleeping wherever we put him, at night he's very active and sleeps all day.
We love Cerebro.
Thank you.
David and Britain
Photos By: 95129912@N00, Marinaavila, 23516192@N08, xeranas, 23516192@N08, 95129912@N00, zixi