How to Diagnose & Treat Pet Duck Health Issues
Treat Round & Tape Worms
Worrying about pet ducks is only natural, especially since they are part of the family. Ducks are plagued with roundworms and tapeworms. The following are signs of roundworms or tapeworms to watch out for:
Duck is off his or her legs more often.
The duck loses a significant amount of weight.
Duck is coughing without reason.
The duck shakes his or her head often.
The duck is not producing as many eggs as it normally does.
Worms can be seen in the duck's stool.
Feces might have some blood in it.
Of course, the best way to diagnose this particular issue is to take the duck to a professional to be sure. It should be noted that roundworms are more common in ducks than tapeworms. Finding these worms means that de-worming has to take place. The vet will likely offer the bird's owner a de-wormer that is added to meals everyday until the issue is resolved.
Further Reading
Issues with Lameness or Hurt Feet
Lameness is common enough for duck owners to worry about it. These feet problems can include swelling and tenderness, which is what makes the duck limp or choose to limit his or her mobility. The problem usually happens when the duck suffers an injury while exiting or entering a water source. Sometimes, the duck's foot gets caught on wires or other possible hazards.
It is important to check if there is an injury under the duck's foot without grabbing the duck by the legs as this action could dislocate the leg. Remove any lodged item but do so carefully, or have a professional deal with it. Do not isolate the duck, especially from his or her mate during recovery. Be sure to feed the duck vitamins and minerals to help with recovery.
Remember that a duck that limps without an injury might be suffering from an infection or a nerve problem. Both of these problems will have to be taken care of by a professional, so be sure that you do not hesitate to call to have the duck examined.
Dealing with Feather Lice
There is no doubt about the fact that parasites, like lice, can affect a duck at some point in their lives. For the most part, a duck will take care of lice and other external parasites without much assistance. This is because ducks normally do a lot of washing and preening. Both of these actions help remove parasites attempting to make a new home in their feathers.
This can fail if a duck is sick or if the duck does not have access to clean, fresh water. The areas that will most likely be affected are the neck and head areas. A duck that is scratching more than normal will likely have the problem. Visually inspecting the feathers should reveal eggs or lice moving about.
The best thing to use for this problem is powders that help get rid of lice. It should be noted that these treatments must be applied carefully and with the guidance of a vet. Those who are looking for a more natural solution might want to consider using diatomaceous earth. It can be hard to apply but should be effective. Treating this issue could take several weeks, so patience is definitely necessary at this time.
Duck Virus Hepatitis
Viral hepatitis is acute and highly contagious. The virus can be carried by vermin such as rats but can be transferred from duck to duck. One of the major issues associated with this ailment is liver lesions. The issue is quite serious as it could lead to sudden death. A duck suffering from this problem may exhibit depression or fall on his or her side for no reason. The duck may start to paddle its legs or arching its back.
There is no simple solution for this problem, except to take the duck to a vet as soon as possible. The issue will deteriorate the duck's health rapidly if not treated in time. The most likely solution is going to be the administration of a serum that is meant to eradicate the issue. It should be noted that the virus can still survive in ducks that have been cured for some time. This means ducks that have been infected and are now recovering should remain relatively isolated from others.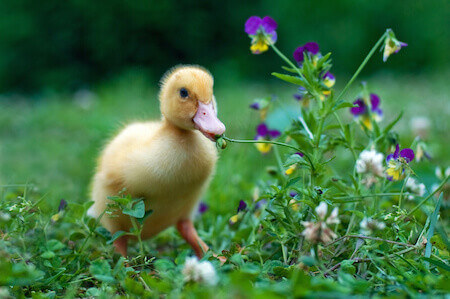 Treating Duck Plague (Virus Enteritis)
Duck plague is also known as the herpevirus infection or the enteritis virus. The infection is quite contagious, even birds that have recovered from the ailment can still transmit the virus to others for a full year. There are several ways to diagnose this dangerous ailment that can sometimes lead to death. For one, female ducks will suddenly produce a lot less eggs.
Ducks suffering from this ailment might also exhibit photophobia and ataxia. Some ducks may also start to close their eyes slightly or even fully without an explanation. The duck might also suffer from dehydration and try to drink an excessive amount of water. Diarrhea, peresis, and tremors are also linked to this dreadful ailment. Penile prolapse is also a sign to look for but only in males, of course.
Ducks may also seem sluggish, and their feathers may start looking a little ruffled. There is nothing that can be done for a bird that is already affected by this disease, which is what makes vaccinations incredibly important. This is especially important if there is an outbreak of this disease amongst other ducks.
Riemerella anatipestifer Infection
Riemerella anatipestifer infection or RA infection is a contagious ailment that affects many birds, including ducks. Most ducks experience acute or chronic septicaemia should they be suffering from RA. There are some ducks who also deal with respiratory issues when they have RA.
Ducks may start to sneeze or cough more often when they have this problem or may begin to tremble inexplicably. The trembling symptom normally just affects the head or the neck of the duck. Ataxia or greenish diarrhea could also affect a duck suffering from RA.
The problem does come from an infection, meaning that there is a host of bacteria attacking the duck. The only way to treat this problem is by contacting a vet to unravel the extent of the infection and to find the most appropriate solution. Most of the time, antibiotics will be used to defeat the infection.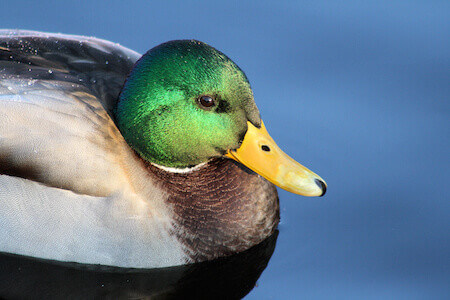 Diagnosing Avian Cholera
Avian cholera or fowl cholera is very dangerous for a duck and highly contagious. The ailment can be traced back to harmful bacteria. Most of the ducks who suffer from this issue may deal with acute speticaemia or localized infections. An infection that is not dealt with in time could also lead to a duck's death.
There are several signs to look for in a duck suffering from avian cholera. A common sign is dijection though this is just one example. Some ducks may suffer from ruffled feathers or even the loss of appetite. Some ducks have consistent diarrhea or begin to cough more often.
There may be some discharge from the nose, eyes, or mouth. The discharge normally occurs because the infection attacks the nasal passages. The duck may also display swollen wattles on the face. There may also be some inflammation of the joints that could cause lameness.
The infection has to be dealt with by a professional. First, the problem has to be assessed in order to proceed with antibiotics. The dosage and the kind of antibiotics that will be used depends on how advanced the infection is. It should be noted that this infection has a higher chance of reoccurring, so prevention is vital.
Ducks with Colibacillosis
Colibacillosis, which is also known as coli-septicaemia, is one of the most common diseases to affect domesticated ducks and other farmed birds. The problem normally follows a respiratory infection such as bronchitis, but this is not always the case. This disease is caused by bacteria, and it can affect young ducks as much as it can affect mature ducks.

There are numerous signs that might be pointing to this ailment like respiratory issues such as excessive coughing or sneezing. A duck might also begin to snick or show signs of poor growth. Dijection and reduced appetite are sometimes associated with this ailment, too. Some ducks suffer from omphalitis as a result of this infection.

The infection needs to be dealt with by a vet, and it should be done quickly because it can spread rapidly. There are numerous potential treatments available that involve antibiotics though the kind used depends on where the infection is. For example, a vet might rely on something like neomycin should the infection be in the intestinal region of the duck. It is important to follow the vet's instruction in order to make sure that the issue is successfully dealt with.

|