A Hamster with Worms
Causes of Worms
Hamsters can become infested with tapeworms (Hymnenolepis nana) or pinworms (Syphacia obvelata) in their small intestines as well as certain protozoa parasites. Worms can be introduced into the hamster habitat by worm-infested insects, fleas, new hamsters, or in contaminated water. These worms can be transmitted to humans and other hamsters when worm-infested feces is intentionally or unintentionally eaten. When it's intentional, this is called coprophagy. In reality, it's not ideal to attempt to stop your hamsters from eating their own feces. Hamsters need to eat their feces in an attempt to get the vitamin and nutrients that failed to be absorbed the first time around. If a hamster can't do this ritual, it can become deficient in essential vitamins and minerals.
Signs and Symptoms
It's hard to detect tapeworms and pinworms in most cases. Often you might not know your hamster is infested with worms at all. On close inspection of the hamster's feces, you might be able to see tiny worm eggs. The physical signs that are more obvious though are include:
weight loss or Anorexia
mild diarrhea
constipation
impaction in severe cases
death due to complications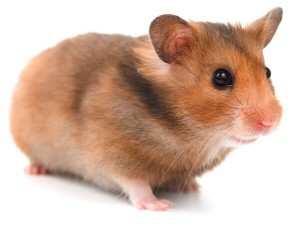 Treat Your Hamsters
To avoid getting worms in your hamsters in the first place, it's important to keep all wild rodents and insects out and be careful where your hamster food and water come from. If a you fear your hamster is infested with worms, it's necessary to isolate them from all other pets while you treat it. Always wear gloves and wash your hands thoroughly to avoid transmission while cleaning your hamster cages or treating a sick hamster with worms.
To treat tapeworms you can give your infested hamsters the drug niclosamide once and then again one week later. Dog dewormer
at smaller doses can also be used. For pinworms the drug piperazine
can be used once a day for a week. For protozoa the drug metronidazole can be added into hamster food. However, a trip the local vet will likely be needed to get the proper hamster care and appropriate dosages of medications.

|