Hamster Hind Limb Problems
There are two main problems that can affect a hamster's hind limbs. One is a term called Cage Paralysis and the other is Hind Limb Paralysis. Both have similar symptoms, loss of the use of the back legs to the point where they become stiff and the ill hamster has to drag its back legs . One is more serious than the other; that being Hind Limb Paralysis.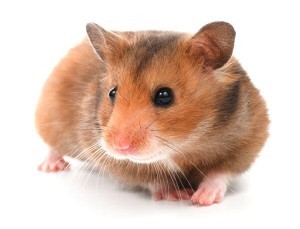 Causes of Cage Paralysis
The main cause of cage paralysis is a lack of exercise due to a small cage or little to no hamster accessories meant for exercise. Another cause of cage paralysis is hamster obesity. If a hamster doesn't exercise and also over eats, the hamster can become overweight, inactive and begin muscle and bone degeneration, which can lead to the loss of use to its hind legs. In severe cases, a hamster might not be able to move at all.
Treatment
Early Diagnosis: You can treat your hamster by providing it more space by increasing its hamster habitat with more tunnels, or habitat modules. A daily run on a hamster wheel or in a hamster ball will help keep cage paralysis away. Vitamin supplements, including vitamin D (helps absorb calcium) and E in the food or water can also help keep your hamsters healthy. If you already do provide this type of environment for your hamsters and your hamster still has hind leg problems, there is a chance that it is the more serious type of hamster illness, Hind Limb Paralysis.
Late Diagnosis: Treat the same as above but a full recovery might not be the outcome.
Causes of Hind Limb Paralysis
Hind leg paralysis can be caused by an injury to the spinal cord and nerves leading to the legs, a bacterial infection called Campylobacteriosis* or a hereditary trait found in males that gets passed down from a previous generation. In any case, the hamster can not use it's back limbs.*Campylobacteriosis is a spiral-shaped bacteria or infectious disease that causes diarrhea. A hamster's own immune system can fight off this infection but it will also go after its own nerve tissues since they are similar in chemical makeup.
Treatment
Some cases of hind limb paralysis are treatable but some of the more serious cases can not be treated. You should let a veterinarian make the call to treat or euthanize the disabled hamster. With mild cases of injury or infection, treatments can help for a full recovery. In the case of an injury, painkillers and anti-inflammatory can help ease the pain and swelling. In the case of an infection such as Campylobacteriosis, treat a hamster for wet tail disease.

|