Signs and Symptoms
The most obvious symptom of hamster wet tail disease is the appearance of a wet backside bottom. This is the result of a severe case of diarrhea. Other signs of wet tail include a hamster that is losing weight at a fast rate also known as hamster anorexia; the ill hamster will also look tired, bent over with abdominal pain and all-around out of it; its eyes will be sunken and dull; the hamster can also have a protruding rectum or blood in the stools.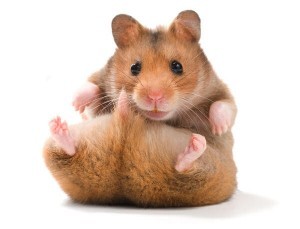 How to Treat It
A vet can prescribe a set of antibiotics and injections of multivitamins. or you can obtain over the counter drop from a pet store.
You can try this effective treatment
If you fear one of your hamsters has a case of wet tail disease, you need to immediately separate the sick individual from its housemates since it a contagious illness. Next, you must act quickly to treat a sick hamster with wet tail. If you wait too long to see if it gets better on its own, the hamster can die in a matter of days from dehydration.
The first step in treatment is to keep your hamster hydrated to avoid dehydration. At the same time, complications from dehydration can cause hypothermia so it's important to use the heat treatment method. Essentially this includes keeping the temperature inside the cage at a constant warm temperature of 70-85*f (21-29*c).
To treat a sick hamster at home using medication drops, you can choose to mix the drops into your hamster's drinking water or if it isn't actively drinking its water, you can use the provided eye-dropper to physically feed the hamster its medication. The medication is flavored so it should make the hamster more open to drinking the solution. Some owners have also had success with adding drops onto their hamster's food/fruit. Improvements to your hamster's health should be seen within one to two days.
Don't order these medications online and wait for delivery, go to the pet store immediately because time is of the essence.In a matter of a day, your hamster can go from bad to worse and it can even die. We recommend you have a medication like this on hand in the case this happens again.These wet-tail drops are suitable for hamster, gerbils, mice, rats and guinea pigs.
Causes
The term "wet tail" is one that refers to a severe case of hamster diarrhea caused by various bacteria and genetic factors. Proliferative Ileitis and Transmissable Ileal Hyperplasia, the medical terms for wet tail is associated with such bacteria as Lawsonia intracellularis, Campylobacter jejuni and E. coli. It's difficult to pin point which bacteria is the root cause of wet tail disease but it's thought to be more likely brought on during times of high stress of a hamster.Wet tail disease is more prevalent in the larger Syrian breeds and not as much in the dwarf breeds. That said, it is possible for a dwarf hamster to be diagnosed with a case of this hamster sickness. Look for the signs listed below and seek treatment right away.
Prevention Tips
While you are treating a sick hamster for any contagious illness, you will need to clean the main hamster habitat thoroughly to disinfect it. Throw the bedding out, clean all the surfaces with a very mild bleach solution and rinse them several times. A water based antibiotic can be added to the groups water source to prevent an outbreak.The best way to take care of a hamster with wet tail is to attempt to prevent it in the first place. Since stress is associated with the cause of this serious hamster illness, try to minimize your hamster's stress level. Avoid housing too many hamsters together and know when to separate weening babies when they begin to mature; this will help keep stressful fighting to a minimum. Take care in the process of relocating any of your hamsters to a new home since anything new to a hamster can be somewhat stressful. Finally to reduce stress, make sure you provide a well balanced hamster diet with adequate sources of water.





|