Treat a Hamster with Impacted Cheek Pouches
A hamsters by nature tends to collect and hoard its food. It's able to do this because of the two lateral cheek pouches on the sides of its mouths. When it goes about collecting food, it does so by stuffing its cheek pouches with seeds and other bits of food. On occasion these pouches can become impacted to the point where a hamster can't empty its pouch full of food bits.
Causes
Food, bedding or some other foreign material. Often with caged hamsters, an impaction of the cheek is caused by a food item that a hamster probably shouldn't be eating in the first place like sweets. Soft food such as bananas and berries might also be the culprit of this issue.
The Signs and Symptoms
If you notice one or both of your hamster's cheek pouches appear to be full and have been like that for some time, an impaction may be present. This likely is not the process of routine food collection and storage behavior. With more observation, if you notice your little pet's head and neck appear swollen, is producing excessive saliva or appears anorexic, it's most likely to have an impacted cheek pouch.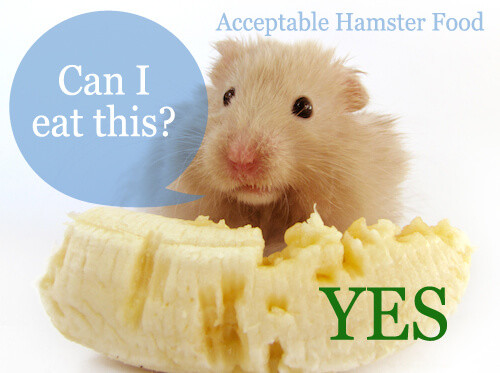 Options for Treating an Impaction
The natural method for a hamster to clear and empty its pouches is to use its two front paws to push the food forward and out of the mouth. You too can try to massage the impacted cheek(s) to attempt to free the food or debris that is stuck.
If that doesn't work, you might need to go into the mouth and physically remove the materials. Do this by using a small tool that doesn't have sharp edges that could lead to cuts inside the mouth.
Another method is to try using a small eye dropper to flush the cheek with a mild salt water saline solution to help break up the materials (a local anesthetic might be needed). You can make a saline solution by taking one teaspoon of uniodized table salt and dissolving it into 8-12 ounces of warm water.
If all of these treatment methods fail or you don't feel comfortable trying them yourself, a trip to your hamster's vet is needed. Letting this problem persist for too long can lead to abscesses with is an even more serious problem.

|