Ringworm Fungus on Hamsters
Causes of Ringworm
Ringworm hamster illness is caused by a fungus. Contrary to the name ringworm, it's not actually a ring shaped worm; though its appearance does resembles that. The medical term for this skin condition is called tinea. When the contagious fungus gets into the living environment, it burrows into the skin and hair follicles of the ears and body of a hamster. (Note: Ringworm is contagious and can be passed from pet to pet, or even to humans; take precautions.)The main cause for ringworm to be present is due to excessive dampness and humidity. A hamster habitat with enclosed spaces that don't have a good deal of ventilation are especially vulnerable to ringworm outbreaks. In these environments, the hamster bedding can often become damp which is an ideal place for fungus to thrive.
Signs and Symptoms
There are several signs and symptoms of a hamster that is infected with the ringworm fungus. The most noticeable is patchy spots on the body where hair loss has occurred. The skin can be dry and flaky and itchy with a yellowish color. Together, these symptoms can make it look like there is a round worm under the skin but in fact, again it's just a fungus. Next, we will discuss how to take care of a hamster with ringworm and fungus infections.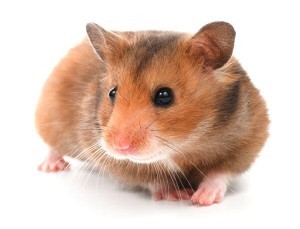 Treat a Hamster
We highly recommend consulting a vet first to get an appropriate treatment recommendation.Since ringworm is contagious, you should wear gloves and wash your hands when ever handling a sick hamster with a fungus or its hamster accessories. This means it is also important to isolate any sick hamster from other pets.Treat you hamster with an antifugal shampoo as instructed on the packaging. Shampoos that might do the trick include ingredients such as miconazole, povidone iodine or keratolytic. With long haired hamster breeds, you should trim the hair down so when you apply the shampoo, the medicine penetrates into the infected areas and hair follicles.As a last resort, you can try griseofulvin that is used for treating dogs and cats. There can be side effects to this medication, hence why it should be used as a last resort.
Prevent ringworm by keeping your hamster cage well ventilated to decrease the moisture buildup inside the cage. You should change the bedding and clean the cage routinely to help keep things clean and healthy.