Seasonal Goldfish Pond Care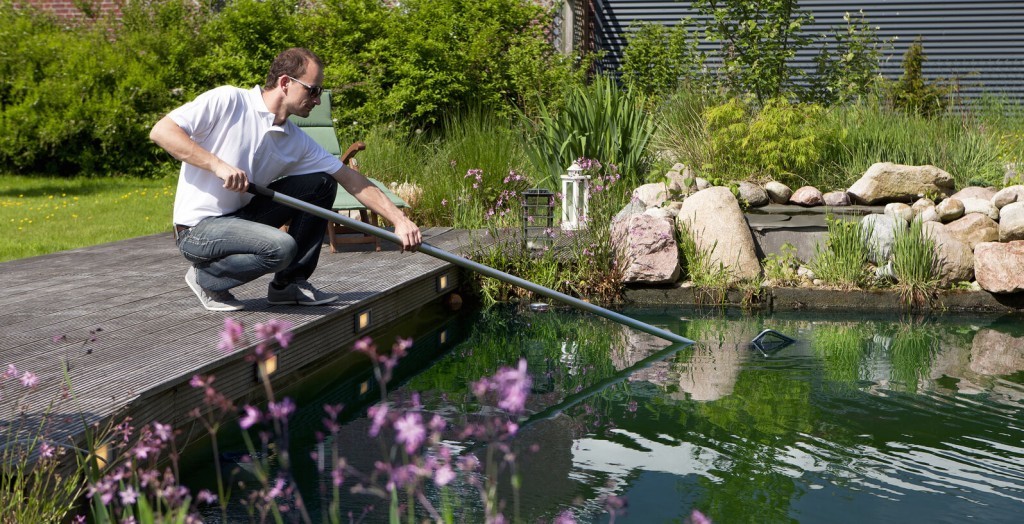 Spring Cleaning
Hardy pond goldfish breeds like the common, comet and shubunkin allow most anyone in any geographical location to become a pond keeper. How successful a goldfish pond will be depends on how well a pond keeper prepares and cares for the pond over the pond seasons. Each pond season brings on a different set of challenges, requiring pond keepers to continuously change their goldfish care methods.
As the water temperature warms up, the goldfish will become more active, aquatic plants will begin to grow, pond creatures will begin to be seen and the biological filters will start to regenerate. With all the growth and revitalization in the spring, pond care involves a lot of maintenance for pond keepers.
If it's dirty, consider a complete cleaning of the goldfish pond.
Remove any pond heaters as they will no longer be needed.
Check filters and pond equipment to make sure they were not damaged or clogged over the winter.
Restart any filters and pumps that might have been shut off during the winter. (Add beneficial bacteria)
Replace ultraviolet sterilizer bulbs and turn them on to combat any spring algae blooms (effective for 6-12 months).
Standard goldfish food can be used when water temperatures are consistently above 54*F (12*C).
Don't allow food to sink to the bottom and rot since the biological filters won't be back to full strength.
Test ammonia levels and preform water changes as needed.
Use plant cuttings to propagate aquatic plants; repot them into new pond plant baskets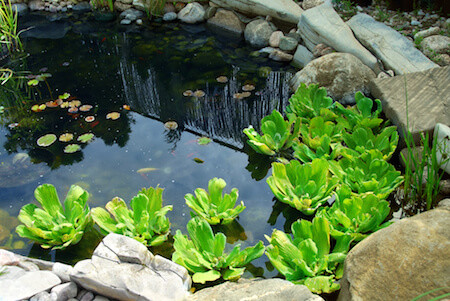 Supplies for Spring
Summer Maintenance
A pond in the summer is the most fulfilling time for keepers; its when the goldfish pond is at its best. This is the time when all the aquatic plants should have filled out and the waterlilies and other marginal plants are in full bloom. With the extended summer days, a pond can be enjoyed for hours. However, a pond in summer is not all fun and games, there are important care instruction to keep the pond looking good and the goldfish feeling healthy.
Long hot summer days will allow aquatic plants and pond creatures to flourish but they also encourage the growth of algae, lower the oxygen levels and quickly evaporate the water in the goldfish pond. The warm temperatures of summer are when the goldfish and other creatures and will need to feed more often. Any goldfish fry that have survived will add to the pond stock levels, leading to an increased demand for food and oxygen while increasing the waste levels in the pond water.
Begin feeding the goldfish a summer staple diet 2-4 times a day (goldfish feeding size)
Add live food or packaged (no longer) live food into the feeding regimen.
Test ammonia levels and lower stock levels of increase filtration if needed (Never dump unwanted goldfish into local waterways).
Run water features and air bubblers 24/7 to combat low oxygen levels at night.
Regularly clean pond filters and equipment to keep them running efficiently.
Fertilize aquatic plants with a plant growth food.
Remove dead leaves and stocks form aquatic plants to reduce the bioload of the goldfish pond.
Treat aquatic plants for pests but don't use generic garden pesticides
Summer Supplies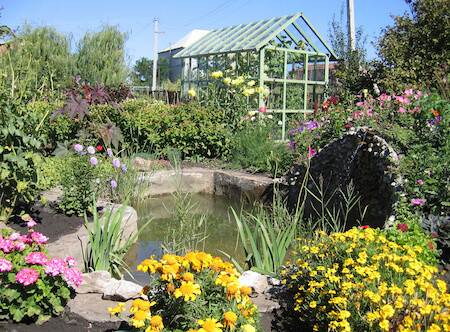 Fall Cleanup
As the summer winds down, the waterlilies and marginal plants begin to die back. The water temperature begins to drop and the goldfish slow down. Autumn leaves fall onto the pond adding to the rotting organic debris in the water. The following are some goldfish care tips for fall and winter
Continue feeding as long as goldfish are active. begin to switch to an autumn pond food
Before the pond water temperature drops treat any goldfish disease or injuries.
Avoid buying any new aquatic plants since they will die back very soon.
Remove dead leaves and stocks of aquatic plants
Cut back marginal plants and oxygenators after the first frost but leave waterlilies to overwinter.
Propagate and repot oxygenator plants
Remove leaves that have fallen into the water. Add a net if needed.
Clean filters and inspect all goldfish pond equipment.
Turn down water pumps to help regulate the water temperature
Turn of water features to avoid mixing colder surface water with warmer water at the bottom.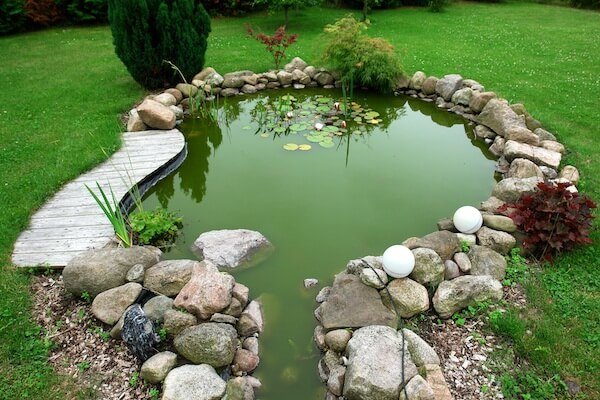 Time to Winterize
As the air and water temperature drops the pond becomes inactive. Most aquatic plants have died back to nothing. Goldfish stay to the bottom where the water is warmest and don't eat as much as they normally would. During cold winters ice might even cover the surface of the pond.
Switch to an easy to digest winter pond food and feed the goldfish less.
Stop feeding entirely if the pond water temperature drops below 40*F (5*C).
Add pond nets if goldfish pond predators have easy access to the goldfish or leaves continue to fall on the pond.
Continue to remove any rotting organic matter from the water.
Keep water features turned off and raise the filter out-flow to keep a warmer layer of water at the bottom.
In freezing climates remove shut off pumps and pipe work to avoid ice damage.
Add a floating pond heater or ice vent to keep ice from completely covering the water surface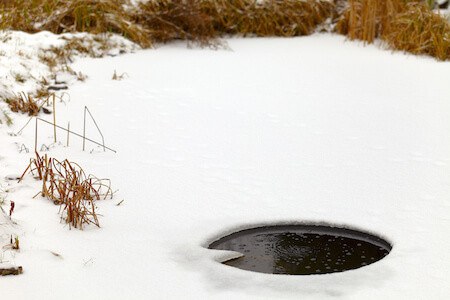 It's important to keep the surface from completely freezing over as it can damaged the sides of a concrete pond and allow the toxic gasses to build up under the surface of the water. Pond heaters and polystyrene foam ice vents not only create an opening for the exchanges of gasses but it give goldfish a place to congregate in the warmer and more oxygenated water. In very cold temperatures an ice vent can freeze over too; a floating pond heater is the best method to keep ice from forming.
Fall and Winter Gear
|