---
Hamster with Diarrhea (Wet Tail)
---
Signs and Symptoms
The signs and symptoms of hamster diarrhea are similar to that of the wet tail hamster disease but there are some signs that different. A normal case of diarrhea will have feces that are soft and light in color. Other than that, the hamster will not appear sick, hunched over, or loss of appetite. Diarrhea caused by a virus can make the hamster look sick, lethargic, and out of it. In severe cases, the hamster's feces will be watery making its backside wet. Hamsters with diarrhea will often lose weight and can become anorexic (see hamster anorexia).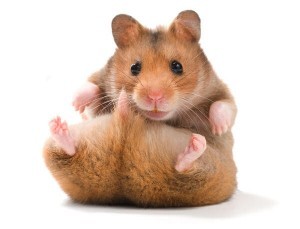 Treatment Methods
If you determine your hamster seems fine other than its diarrhea, change it diet to a dry food mix and eliminate limit fruits and vegetables until a few days after it has fully recovered. During that time, make sure the hamster stays hydrated and its hamster habitat stays at a constant warm temperature 70-85*f (21-29*c).
Dehydration as a result of diarrhea can become a serious health concern for a hamster. It can even lead to death. Since a hamster is so small in size, even a mild case of diarrhea can dehydrate it quickly. It is vital to make sure any water loss is replaced either through the hamster's water dish/bottle or via a water dropper if the hamster isn't observed drinking on its own.
In severe cases, you might consider going to the vet to get antibiotics. You can give your sick hamster a few drops of kaolin preparations or charcoal three times a day. In any case, for proper care, you should isolate the sick hamsters from the healthy ones and also thoroughly clean their cages and accessories.
Or you can try this effective treatment
Causes of Diarrhea
The causes of a hamster with a bout of diarrhea include several things. If the diarrhea is just that and not the more severe type referred to as hamster wet tail, it's typically caused by three or four different factors. The first cause can be due to an infectious virus like influenza or salmonella. Even more likely the case though, the hamster's diarrhea is caused by too many greens or foods with laxative agents in its diet ( see a list of foods that act as laxatives). Other causes can be due to unsanitary living conditions or during times of elevated levels of stress like a weening baby hamster.

|