Our furry little woofers love their vacation time as we do. If they are fast and energetic, they enjoy being out more than us. Dogs feel more comfortable when they get to bring their belongings and a set of essential dog supplies.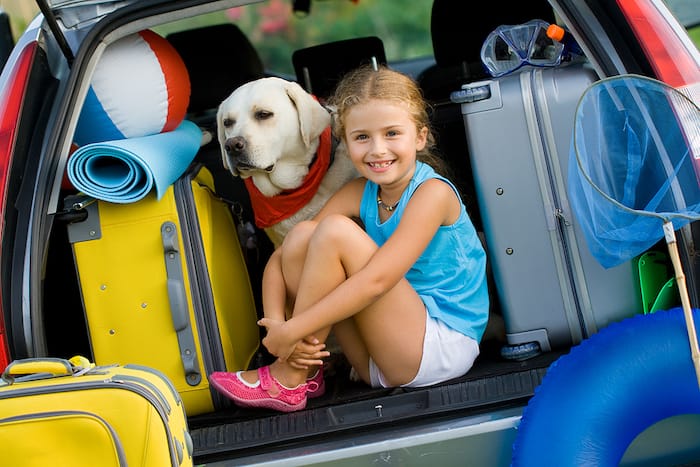 Preparing Your Dog for a Road Trip:
To prepare for a road trip with a dog, you start by packing your essentials and camping alongside a road. You equip the vehicle with a barrier and a bench seat cover.
You will need to feed the dogs at least twice a day, for which you can fix their food and water and pack their familiar dog bowl. You can keep all their treats in a treat pouch attached to a dog organizer. You can also fix the organizer behind a car seat.
The road trips can cause anxiety to some dogs and agitate them. You can keep the prescribed stress relief tablets and their favorite toy to soothe the distress.
8 Best Dog Products Everyone Needs for Their Road Trip:
The following 8 dog products are the essentials and best products that everyone needs for their road trip:
Travel Bag:
Before embarking on a long road trip with a dog, you may want to pack everything your dog may need in a single place. An MDG Travel Bag comes with their patented travel feeding system (two silicone collapsible bowls, two insulated food/treat carriers, and a non-stick feeding mat). Their bags are available in all shapes, sizes, and colors, such as the Week Away bag, multiple style Backpacks, and even a bag on wheels!
Car Accessories:
Manufacturers build car accessories, such as Mobile Dog Gear, for dog owners to organize their car and keep everything you need for the trip neatly. An MDG Car Seat Back Organizer is the perfect item to organize and store everything your dog needs while you're in the car. You can secure the organizer around the car headrest with the adjustable strap and a buckle. The buckle has ballistic polyester for maximum durability and abrasion resistance. They also have a truck organizer option as well for even more storage for your vehicle.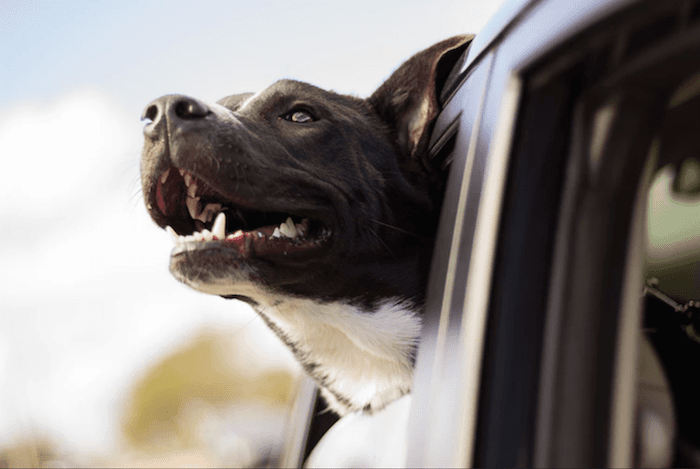 Waste Bag Dispenser:
A waste bag dispenser is an indispensable item during long trips. An MSD Waste Bag Dispenser built inside a travel bag contains a heavy-duty fabric that collapses in a storage organizer. You can place the poop bags within the waste bags dispenser that you can later dispense with ease and convenience.
GPS Pet Tracker:
GPS Pet Trackers allow users to track the activities of their pets and find out where they are through an application. This application uses advanced cellular technology with GPS, BlueTooth, and a Wi-Fi connection. The GPS Pet Tracker-enabled phone can give real-time updates.
Safety Collar:
The purpose of a safety collar is to act as a preventative measure in case the dog collar breaks or the leash disconnects during a walk. While a harness is the same by nature, it is inconvenient for a dog as it takes more time to wear.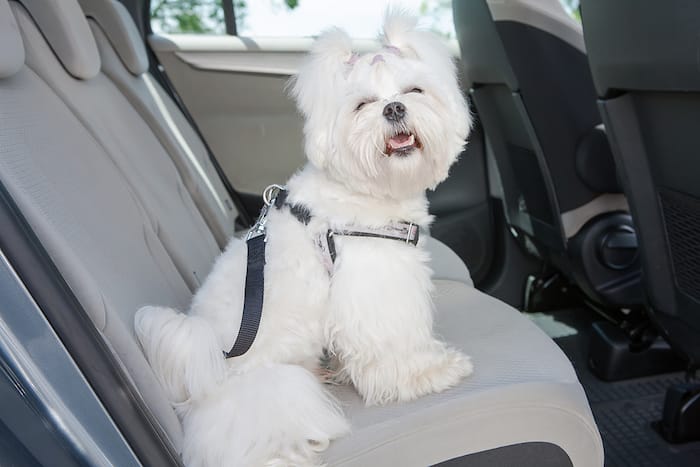 Chewy:
A chewy is allergy-friendly dog food made for dogs with food sensitivities and allergies. A road trip can cause a change in the routine or environment of a dog which can lead to destructive chewing. It is of importance to pack a veterinarian-recommended dog chewy.
Camping Dog Bed:
A dog may need its sleeping pad while you camp on a road trip. Water and tear-resistant polyester make up these beds. They come with washable fabric that removes, folds, and dries for transportation and storage. At night when the temp dips, these padded beds will keep your friend warm and comfortable.
Seat belt:
A seat belt is for the dog's safety so that you can leave the car window down for them to enjoy the scenic view outside. The seat belt comes with an adjustable strap that allows the pet to sit, lie down or stand without causing them any discomfort. With a seat belt on, you can go out or drive at calm.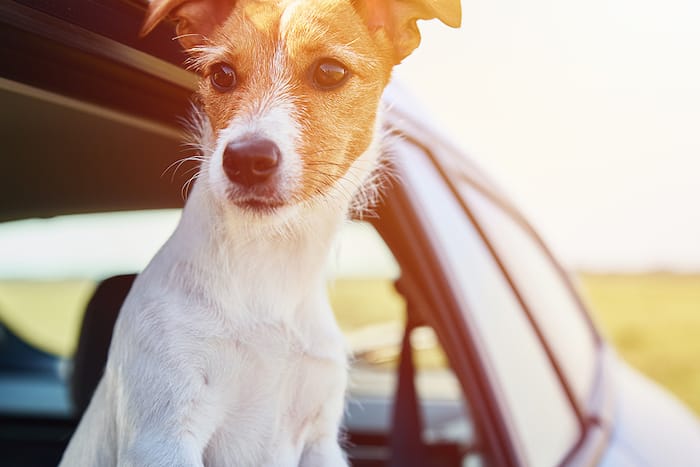 Frequently Asked Questions:
Here are a few questions that often concern dog owners while traveling with them on a road trip:
What can I give my dog to relax on a road trip?
If your dog gets antsy in a confined vehicle on a road trip, you can give a familiar toy or blanket to keep them happy. You can also use the medications such as alprazolam or trazodone as prescribed by your veterinarian.
What are the top 3 essential things for the dog on a road trip?
Water – remaining hydrated becomes more important on long journeys. You need to change and refill their water at least twice a day.
Food – food keeps them calm and energetic. You will need balanced dog food twice a day for adult dogs.
Exercise – depending on breed, age, and size, dogs need an exercise routine on a road trip.
How long can a dog go on a road trip?
It depends on the dog. Young puppies and elderly dogs may need breaks every hour as they have less bladder control. Adult potty-trained dogs can ride for three to four hours without a break.
What are the most popular dog accessories on a road trip?
Their GPS Pet Tracker, Safety Collar, Chewy, Waste Bag Dispenser, and Organizer Travel Bag are the most popular dog accessories on a road trip.
What is the average cost of traveling with a dog on a road trip?
On average, you may need a:
Travel Carrier: $35-250
Lodging Fees: $175 for a week ($25/night)
Car Cleaning Fees: $25-$400
Vet visit for a health certificate and vaccinations: $50
Flea/parasite/tick prevention: $30-$60
Car Harness or Carrier: $84-$130
Car Seat Covers: $30
It makes the total potential cost to be around – $424- $1,095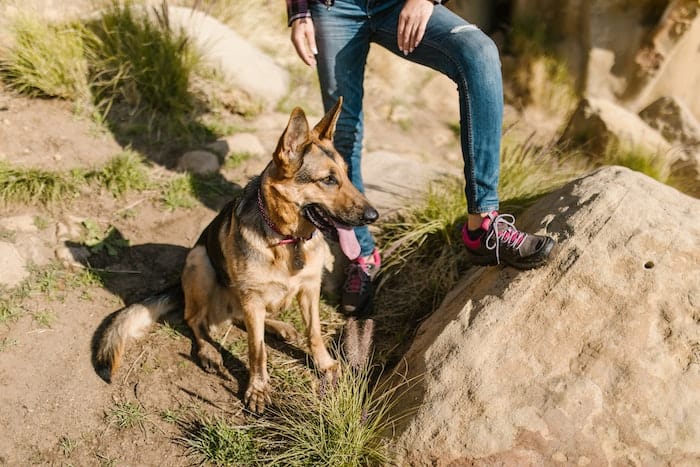 Conclusion:
Preparing for a road trip can be fun if your best friend is your preferred traveling companion. Packing the essentials in their travel tote bag can excite the dogs as they can sense the thrill of an adventure afoot. It is necessary to keep a GPS pet tracker, safety collar, dog organizer, and their favorite toy while traveling. Also, having your veterinarian's approval on the food and medicine for your dog can make the trip worry-free.
Related Reading