It would be so awesome if you could walk your dog with matching hoodies. However, finding matching clothing of that caliber is difficult, if not often pricey. You can customize your dog's clothing from scratch using print-on-demand services. Not only is it affordable, but you get to choose styles from pre-made templates or customize your own dog clothing. Design your own patch and do other fun and neat clothing creations.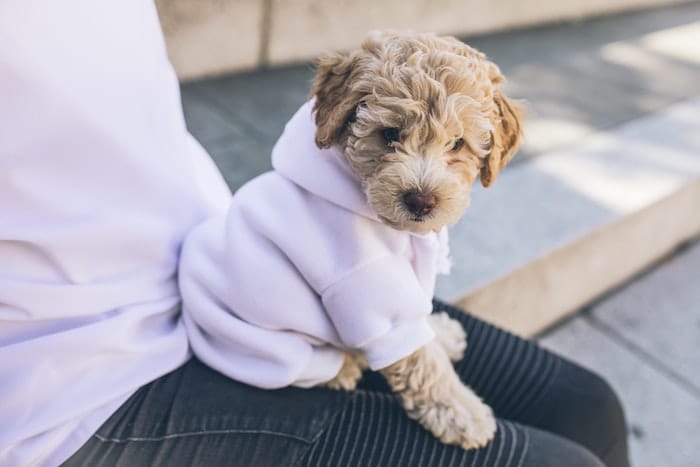 Ways That You Can Customize Your Dog's Clothing
When it comes to dressing your dog, there are plenty of options available to you. Customizing your dog's clothing can be a great way to make the items unique and more reflective of your dog's personality. Some ideas for ways that you can customize your dog's clothing include the following:
Unique Patterns
There is a plethora of ways that you can make your dog's clothes look cute. You can customize your dog's clothes by adding stripes, plaids, polka dots, zig-zags, gingham, and other unique patterns. You can also add embroidered patches to your dog's clothing and even graphic images such as photographs.
Dog Shoes
If you want something fun and unique for your dog's clothes, consider switching out their shoes. For example, they might have some cute little boots that will keep them warm in cold weather, but you could also go with sneakers if you prefer a more casual look for your dog's outfit.
Dog Hoodies
When customizing your dog's hoodie, it's important to consider their comfort and style, as well as the fit and size of their body. When choosing a hoodie for your dog, you should look for high-quality materials that are comfortable and durable. Make sure you choose a hoodie with room for your dog to move freely and comfortably. You can also opt for loose-fitting styles if your dog tends to be more active or energetic.
Cool Dog Collars
Cool dog collar ideas include patterned collars, brightly colored collars, and even sparkly or bejeweled collars. You can also have collars that have their name or a message sown into them. The dog tag can match the dog collar's style. For example, if there are hearts in the collar, you can choose a heart-shaped dog tag. When selecting a collar for your dog, look for adjustable styles. This is especially important if you have a very small or large breed of dog. Your dog's comfort is the most important thing!
Hats
There are many different types of dog hats that you can customize, including winter hats, sports-themed hats, and even novelty hats with fun designs or accessories. You can dress your dog up for special occasions, for example, a Santa hat at Christmas dinner. Explore different combinations of outfits and accessories to create a cohesive look with your dog's customized hat.
Bandanas
Dogs enjoy wearing bandanas because their owner has put some extra thought and effort into choosing the perfect outfit for them. You can create a sense of personalization by creating a bandana with unique patterns, imagery, or woods that suit your dog's personality.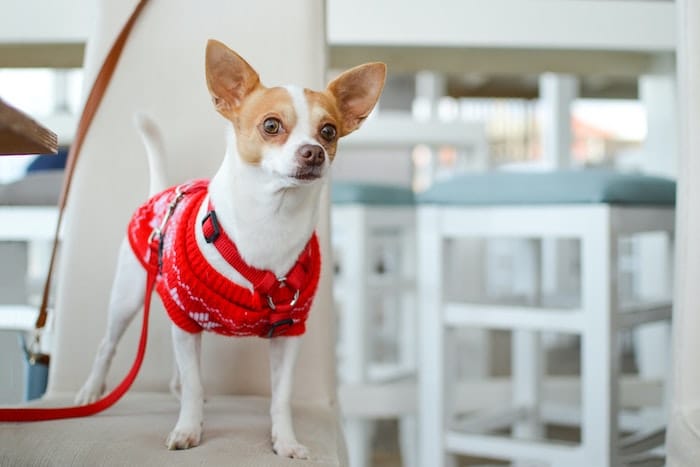 How To Make Doggie T-Shirts And Bandanas From Scratch
One of the best ways to make a personalized item for your dog is by using print-on-demand services. These services allow you to upload your design or image and print it onto various products, such as dog toys, leashes, collars, and more.
Create An Account
To get started with a print-on-demand service for your dog, you must create an account on the website.
Create A Design
Make a design from your imagination, such as a graphic image, drawing, or quote. Use 300 dpi to be sharp when you upload it to the print-on-demand platform.
Choose A Product
There are different types of products and materials you can use for your new custom doggie clothes. For example, you can pick t-shirts, bandanas, or dog tags to design. You can add embroidered patches to add a flair to your dog's clothing. Once you've selected a product item, you can choose the colors and fabric you'll be using.
Upload File
Once you have created an account, you can begin uploading your design or image files so that they can be printed onto the products that you have chosen. Typically this can be done using a simple online tool, where you can upload your images or designs and scale, resize, or crop them as needed.
Print Then Ship
Have your creation printed and shipped straight to your doorstep. You can then have your dog try them off and take them for a walk!
Using print-on-demand services for your dog is a great way to create personalized items that are unique and well-designed. You can create custom leashes, personalized toys, and fun and memorable items for your dog.
Related Reading