The thought of taking a trip with your dog can be daunting. But there are ways in which traveling with your beloved pet can be less stressful than you think.
Statistics show that there were 69 million households in the US with at least one resident dog in the year 2021 – 2022. So, it's no wonder that so many people consider their four-legged bestie part of the family.
Maybe you're visiting friends for the weekend and want to take your pooch along for the ride. Or perhaps you're going on a trip of a lifetime and can't bear the thought of leaving your furry friend behind. Whatever the reason, these top tips can help make your journey a pleasure.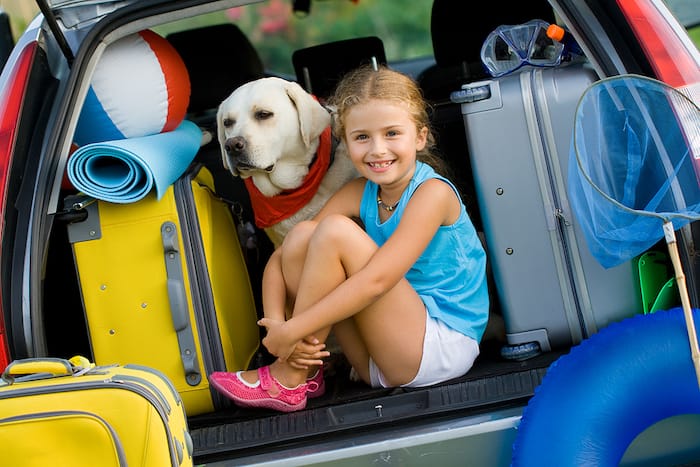 Traveling by car
If you're traveling between states, then perhaps the easiest solution is to go by car. That way, you can make as many stops as you need with your pet and take their home comforts along with you.
When traveling with your dog in the vehicle it's important to make the journey as stress-free as possible for them. Using a crate or dog seatbelt will stop your dog from falling about when the vehicle is moving and keep them safer if you were to have a road traffic collision. Equally, It's a good idea to check the rules of each state when it comes to restraining your dog in the vehicle and it's worth noting that, if you're hiring a car, some companies might have different regulations.
If you are planning a road trip across the US, hiring a motorhome is a good alternative to a car. Check with motorhome rental companies before booking to see if dogs are allowed and if there is a deposit required.
Public transport
If you're planning on traveling by train, bus or subway at any time throughout your journey, you should check the individual travel company rules in the city you're visiting. Many allow small dogs to travel (often for free) but, again, rules can differ between providers. For longer train and bus journeys it's worth planning in toilet stops to allow your dog to relieve its self, and avoid any unwanted accidents.
If your dog is not used to traveling this way, you might want to consider taking journeys at quieter times to reduce any potential worry or stress.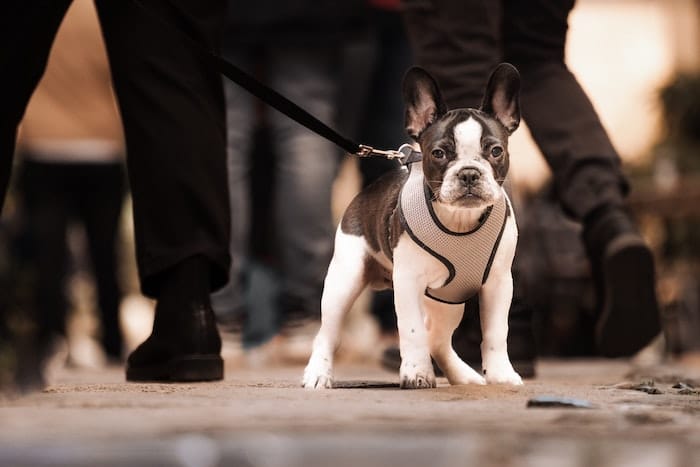 Flying domestically
Before taking your dog on a flight it's worth asking yourself how necessary it is. Flying can cause a heightened sense of stress for dogs, especially older ones. However, if flying is the only option and your dog is in good health than many US airlines allow dogs on domestic flights. It's worth checking with each airline individually as rules vary as to whether they need to travel in the cabin or in the hold.
Most airlines require pets to remain in a carrier, either under the seat or in the cargo, and there's often a weight or size limit. For those dogs accompanying you in the cabin, make sure you choose a dog carrier that will fit under the seat but still allow for your dog to, stand, sit and turn around. Dogs are required to stay in the carrier for the whole flight so it's imperative that they are comfortable. Check each airline individually for carrier size restrictions whether it's for cabin or cargo.
Flying internationally
Rules for international flights vary depending on the airline and the country you're traveling to. Long-haul flights will likely require your pooch to travel in the hold for the safety of themselves and others on the flight.
Many pet-owners only choose to travel long-haul with their pet if they're moving abroad or embarking on an extended trip.
If you travel frequently with your dog, private jet rental could be the ideal option to allow you and your pet to travel across the country with ease. Your dog will travel in the cabin with you and get 5-star treatment from the air cabin crew. Not only does this allow you to be with your dog for the entire flight but enables stress for both you and your pet to be kept at a minimum.
And, if you do choose to visit another country with your dog, remember to check out country-specific vaccine and passport requirements via the relevant US Embassy.
Ultimately, by planning ahead and being aware of the different rules around pet travel, you can enjoy a great trip with your cute companion.
Related Reading