Breeding Pond Goldfish
In an uncontrolled environment like a garden pond, goldfish can breed given there is a minimum of one male and one female. Spawning occurs when the water temperature is between 50-78*F (10-26*C). In times of ideal spawning conditions, male goldfish will be more active, chase the females around and often get tubercles (spawning rash) on their gill covers and bony rays of their pectoral fins. These tubercles look like tiny white bumps (not to be mistaken for the white spots of ich).
The more rounded female full of eggs attempt to flee the perusing males and are drawn to the vegetation of the aquatic plants. The vegetation of the aquatic plants is where the females will lay their eggs when they are ready. As a female drop her eggs (500-4000), several males will follow closely behind and attempt to fertilize the eggs. The eggs immediately fall onto the leaves of the aquatic plants where the fertilized eggs begin to develop embryos. The unfertilized eggs turn white and die within a few hours.
Related Content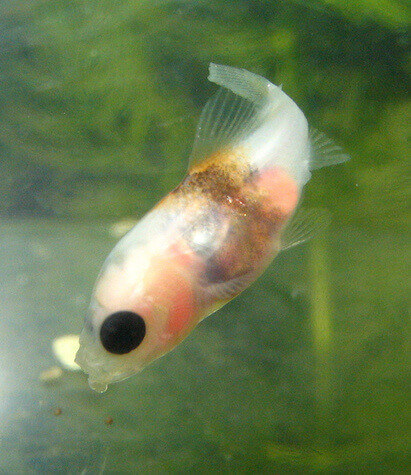 Goldfish eggs are a good source of nutrients and will be eaten by the inhabitants of the pond, including the parents. Any remaining embryos can hatch in 2 to 7 days depending on the temperature of the goldfish pond water. The warmer the water, the faster the incubation time. A hatched embryo will eat its remaining yolk sac, swim to the surface, take a breath of fresh air and inflate its swim bladder. These little guys are now called "goldfish fry". The fry are also a food source and a large number of fry are eaten. It's difficult to care for goldfish babies in a pond.
Surviving fry that are able to find food and grow into small fish are often brown or bronze in color. If the  pond contains several goldfish species, many of these small fish are likely to be cross breeds. It is also possible for a goldfish to cross breed with koi and ghost carp with the same disappointing results.
Photo: Alice Chaos
Additional Content