Protect a Goldfish Pond from Predators
An outdoor goldfish pond is a great addition to any landscape and makes a nice place to sit and unwind from the stresses of the day. Thank a goldfish pond keeper for a well maintained goldfish pond because it can be a lot of work to keep the aquatic plants and all the goldfish healthy. Maintaining an outdoor goldfish pond is different than an indoor goldfish tank or pond; environmental factors need to be addressed, including: seasons, direct sunlight, air temperature, falling leaves and debris, rain water composition, and of course predators. We will discuss the problem of goldfish predators in this post and pick up the others in another post.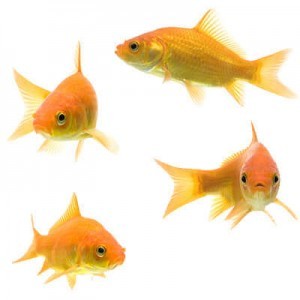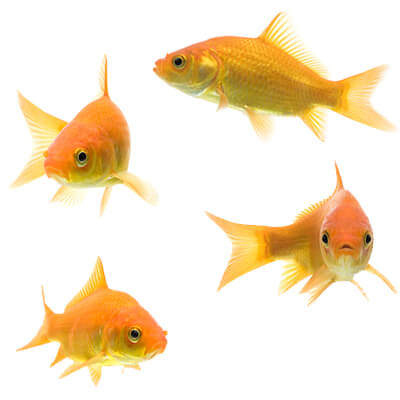 Goldfish Predators
Some of the most common goldfish predators include:
Herons and Egrets
Birds of Prey
Some Aquatic Turtles
Shallow water and unprotected pond banks create a great place for goldfish predators. Herons and egrets can wade in the shallow waters and pick off curious goldfish that swim too close. Four legged animals can get right up on the goldfish pond and swat at the goldfish or even plunge their heads in and grab an unsuspecting goldfish. Birds of prey can dive down from above when they spot a goldfish in the open. Bottom dwelling pond turtles like the snapping turtle, musk and mud or soft shelled turtles are aggressive and will go after goldfish. Some pond turtle breeds can be trained to eat goldfish food and ignore the goldfish. Once one of these predators find success, it will likely make it a routine to feed at the goldfish pond.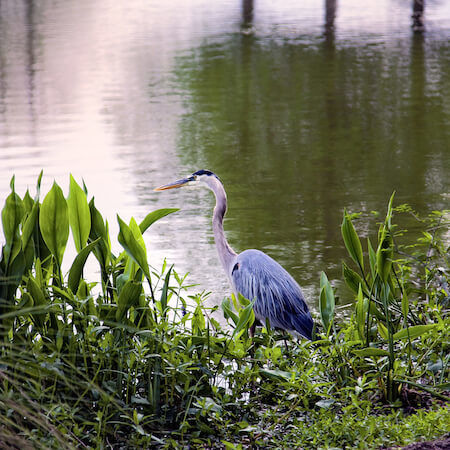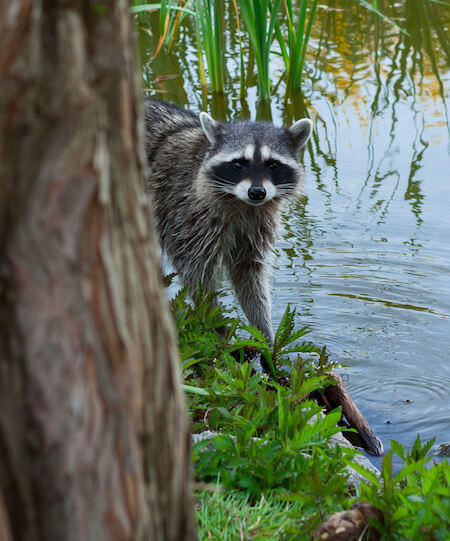 Established Ponds
In an existing goldfish pond where predators are or could be a problem, eliminate open shallow areas (less than 3 feet) by adding marginal aquatic plants like sweet flag, lobealia, iris or rushes. These marginal aquatic plants grow thick and are an attractive addition to a goldfish pond. Herons lose their shallow wading areas, four legged predators are denied access to the ponds edge in the shallows and the marginal aquatic plants give a place for small goldfish to hide. Goldfish that are being targeted by birds of prey might have a better chance of survival if the goldfish pond is deeper than four feet and contains a few floating aquatic plants like water lilies they can hide under.
Small Container Ponds
Potted plants can be placed around an above ground container goldfish pond that sit on a patio deck to keep predators from getting in close. Another idea is to elevating the container pond so cats and raccoons can't easily peer into the container pond. If the deck is on the ground floor, a fence or gate might detract dogs and coyotes. The last option is to add netting over the top of the pond but it is a rather unattractive solution.
Goldfish Pond Design Ideas
These goldfish pond design ideas are not required but will help keep predators away. Note: Pond depths also need to factor in the climate of the geographical location. Colder climates require deeper pond water while in warmer climates, ponds can be shallow.
A minimum water depth of three feet (one meter)
Open banks should be steep with a minimum water depth of three feet (one meter)
Reinforce steep banks or add an overhang to avoid erosion or an exposed liner
Plan on planting aquatic marginal plants in the shallows. Create a nice backdrop
Make space for aquatic and floating plants.
|