Cats are adorable beings that get nurtured by love and affections. However, we can hardly manage to spend quality time with our cats in our busy lives. So, while we reside outside our homes, we need certain tools and equipment for our furry baby's comfort.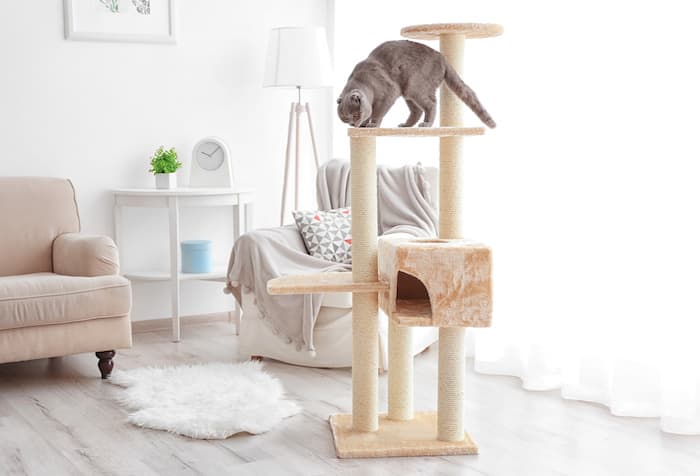 Thus, I will enlist 7 must-have cat products for when you're away from home. These tools will let you say at ease and provide the utmost comfort for your kitties. So, if you are interested, continue reading the article further.
Cat Water Fountain
Water fountains for cats are extremely handy and classy tools. It can keep your cat's water supply clean and fresh and keep pouring so that your cat can never go thirsty. So, you don't have to worry about your cat getting dehydrated when you leave the house for an extended time.
The great thing is that cats are innately reluctant to still liquids, so they find this constant water flowing quite amusing. This sparks their instinct to drink more, and it increases their water intake.
Cat water fountains come in various designs and colors to match any home design scheme. I particularly like the one with five distinct water-spouting heads for my high-maintenance cat. It keeps her curiosity at its peak.
An Automatic Litter Box
This litter box practically cleans itself and saves you the biggest hassle. It operates by detecting your cat's movement around the litter tray. The sensor detects the motion of your cat and cleans itself after the cat leaves the tray.
The system collects the clumped waste and automatically transfers it into a sealed container located at the end of the tray. Furthermore, the tool cleans itself by raking a plow-like comb through the litter. What's great about this tool is that it prevents any odor from spreading by keeping the trash stored away.
Cats are naturally very clean animals and tend to hide their waste's smell by instinct. So, if they detect an overtly dirty litter box, they will avoid it and look into another safe and clean place. Even though this automatic litter tray/box can be a bit expensive, it will come in handy while you are away from home or lack time to clean.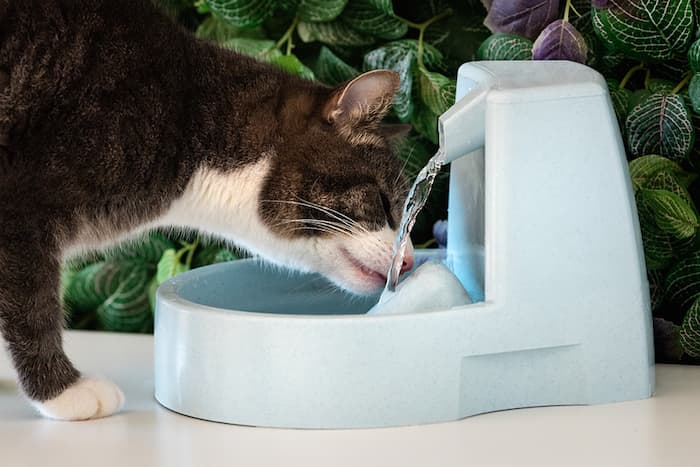 Automatic Feeder for Cat
You must first consider food while leaving your cat alone at home, especially if you plan to stay away for the night. You need to make sure that your kitty never goes hungry. So, an automatic feeder is the best option.
You can set up the smart feeder to discharge food every few hours. This technology is also very helpful if you have trouble managing your cat's food portions. You can set up the amount of food the feeder will discharge.
What's great is that certain brands offer the system to record a personalized message at feeding time. So, it is a great privilege for you if you have a busy job or life schedule. The only concern is that this automatic feeder can be expensive, but it is certainly a great investment given your situation.
On the other hand, you can also get cat food and toy dispensers. They are great tools for the cat to play with and have small treats in between. Once they understand how the food comes out, they will instinctively process it and play with the toy to get the treats.
The served portions are relatively smaller, so you don't have to worry about your baby gaining weight. Rather, it will help them to be active and healthy.
A Smart Kitty-Cam
It is a great invention of technology as it lets you keep track of your cat while you are outside. In addition to providing you with a wide-angle live stream of your house, it enables you to speak to your pet. Furthermore, you can take pictures and movies and play with them using an automatic laser through an app on your phone.
This cutting-edge technology comes in great service to track out kitten's ware bouts and the security of your house. The infrared night vision enables night vision. So, you can monitor your cat at night or any other time.
Interactive Toys
I have already mentioned the food and toy dispensers. Besides that, you can try several integrative case toys to keep your cat company. Cats are pet animals who love to interact, cuddle and play with people and other animals. So, they might feel lonely when there's no one around to keep them company.
There are quite a few interactive toys available for the cats. You can buy the sprigged ones with butterfly or bug figures. You can also buy the hanging with long strands and animal figures. You can get several types of toys run on batteries, motors, and so on. My cat loves the one with laser light and mewing sounds.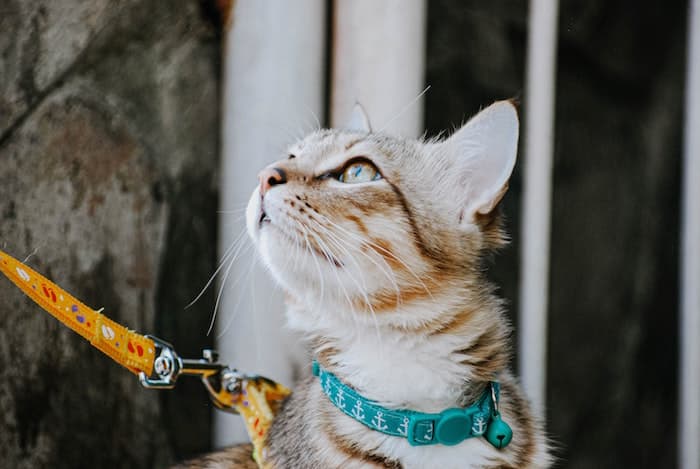 Cat Climbing Trees and Safe houses
Cat trees are made with harsh and textured ropes. So. your cat can scratch her back or run her claws on the trees. It has a great privilege because the kitty will not be ruining the expensive rugs, furniture, and sofas. Furthermore, it helps with their flexibility and movements.
Cat trees allow your cat to expand their territory vertically and give them a high platform from where they can view their domain. Cats innately tend to climb up high. So, setting a safe cat tree up high will prevent them from jumping on the windows, doors, or furniture and causing accidents.
Similar to the safe house. While you are away from home, your cat might get scared or startled. So, she will need a safe place to hide until she feels safe. You can get her a small hideaway bed and place it on the top of the cat tree.
That way, she can feel at ease while feeling out of reach from danger. You can place another on the ground in a relatively dark place or corner. So, if she does not feel safe climbing up, she can hide in the corner.
Microchip Cat Flap
While you are away, your cat might want to go to the balcony to get some sun. So, you can set a cat flap on the doors and set a microchip so that it can be controlled by motion detectors. Or, you can get the one that can be controlled via apps.
It is a handy tool because in your absence, accidents might occur, and your cat might need to leave the room. In that case, an advanced evacuation system installment will not hurt. Furthermore, you can track whether your cat has passed through the flap or not with the app. So, it's better to be safe than sorry.
Conclusion
So, this is my top list of 7 must-have cat products for when you're away from home. As a cat owner, I always feel sad when I have to leave my cat alone at home. However, in my busy schedule, there's not much I can do.
So, having these tools always puts me at ease. Even amid work, I can keep track of my furry baby and be assured that she's well-fed and comfortable. So, I hope you find your favorite tools amongst these and have a great time with your kitty.
Related Reading