We must ensure that our feline companions never miss a meal. Despite this, we often worry about our cats' hunger due to the hectic pace of modern life. To solve the problem, I am using PETLIBRO automatic camera monitoring feeder for my cat. It can capture or record the screen of the pet eating in real time, allowing the owner to see whether the pet has eaten the food and how they are eating. Owners can better understand their cats' eating habits and behavior. Amazon is offering 24% off Black Friday deals from 23rd to 27th November. The PETLIBRO automatic feeder is available for $105.99 (originally $139.99). So, it's a perfect time to give your pet something special.
But the question remains, is the PETLIBRO Granary cat feeder with a camera worth the investment? Check out my detailed review of the product before making a decision.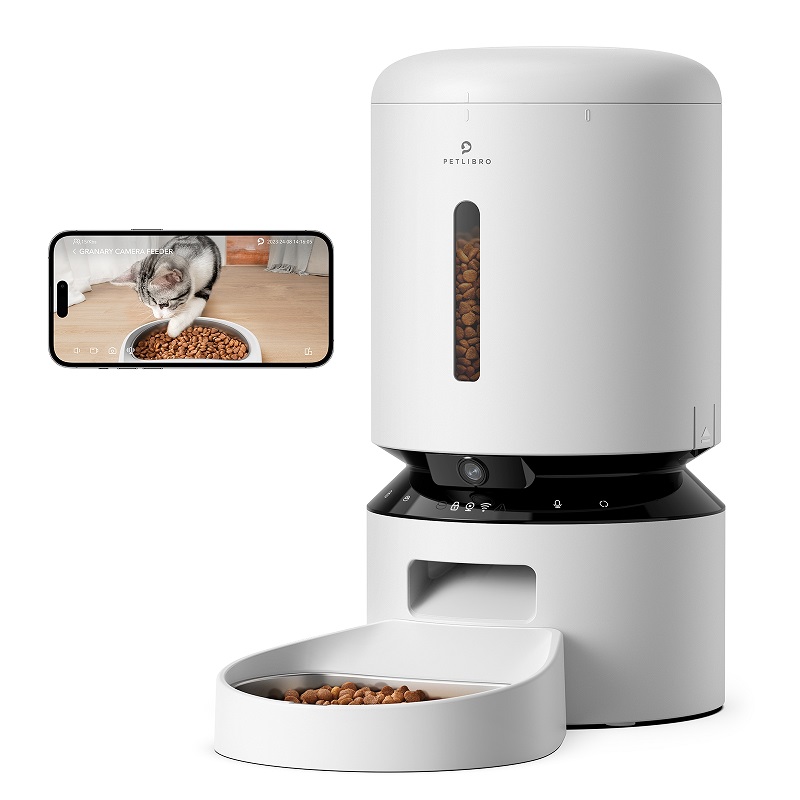 Why did I choose to Buy the PETLIBRO Granary Series?
PETLIBRO Granary Series comes with an advanced monitoring system that ensures your cat never misses a meal. You can schedule feeding times, control portion sizes, and ensure consistency for your pet.
Granary Series goes beyond standard automatic feeders. It offers an APP version, a programmable version, and a dual food bowl version, ensuring there's an ideal option for every pet and pet owner. I found the PETLIBRO Granary Camera Automatic Pet Feeder to be the perfect fit for my needs. This is PETLIBRO's first camera monitoring feeder, as well as one of the most advanced camera feeders available today. It's the best gift you can give your pet to keep them well-fed when you're away.
What did I get in the Box?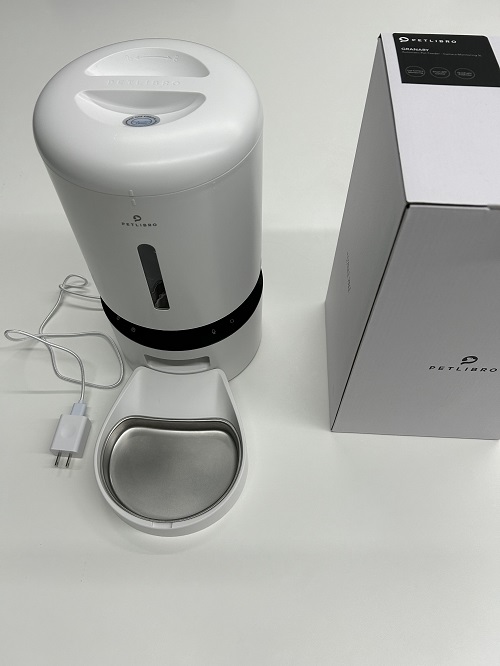 The automatic cat feeder includes a USB cable and 5V DC adapter, a desiccant package, an instruction booklet, some stickers, and the feeder body, cover, and bowl. Internal video recording requires the use of a TF (microSD) card, which I purchased separately. In addition, I had to purchase three D batteries for use as a backup power source in case of a blackout. The hopper can hold 5 liters of food, which is around 21 cups. The desiccant packet in the top and the airtight cover of the hopper means that a full supply of food lasts roughly one month. Now, my cat can eat anywhere from one to ten "portions" per meal. Ten grams (g), or about a tablespoon, is considered one "portion" of dry cat food. It is up to you to determine how many "portions" you'd like in each meal.
The feeder's portion measurement method works great, but it would be much simpler to set up and use if it used more conventional units of measurement, preferably volumetric ones like teaspoons and cups. To play along with your cat's food, I can record a message into the device's microphone. It is possible to customize the app so that some meals have a message and others do not. The PETLIBRO Granary Automatic Feeder with Camera has everything you could want in an automated feeder: the ability to program it to dispense food at specific times, remote control and monitoring via an app, a camera that lets you see, hear, and speak to your cat, and robust security measures to prevent your cat from sneaking food at inconvenient times. PETLIBRO also offers an APP version , a programmable version, and a dual food bowl version in addition to the monitoring version.
Features of PETLIBRO Monitoring Automatic Pet Feeder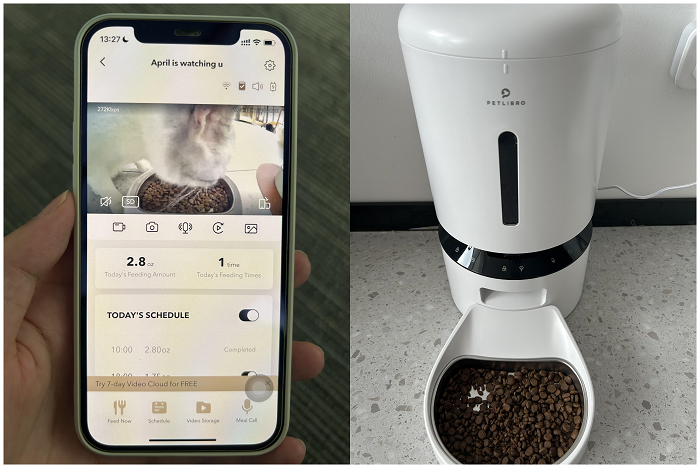 Keep an Extra Eye on Your Pets
The PETLIBRO Monitoring Automatic Pet Feeder has a 1080p HD camera with a 145° wide-angle lens. It is like being in the same room as your pet while eating. It is the finest alternative for your furry family because of its wide-angle camera and two-way vocal contact, which enables you to communicate with your pet in real time.
You'll get a signal when your pet gets close to the automatic feeder. It enables you to monitor your cat remotely at any time through the PETLIBRO Lite app. You can watch your cat, take photos, and engage in both one-way and two-way communication. The camera's motion and sound detection capabilities ensure that you don't miss out on important moments. The SD card I use can hold up to 256GB of footage. Using the app, you can keep track of how much your pet eats.
The feeder will send you notifications on your phone when it encounters issues like Wi-Fi problems, malfunctioning, blocking, etc. If the infrared sensor detects that the food outlet is obstructed, it will immediately stop distributing food.
Night Vision System
Your pet's nocturnal behavior can always be monitored by the feeder. The 145-degree wide-angle lens and built-in night vision technology will keep them in sight at all times. You can see if they're getting enough to eat or if they're sleeping soundly at night.
Preserve Routine with a Comforting Call
This Automatic Feeder lets you keep a routine by calling your pet's name, making them feel comfortable hearing your voice. You can set the meal call to play at specific times (0-5) and record a brief voice message (up to 10 seconds) as a reminder. Old voice recordings are discarded when new ones are made. You can easily monitor the food supply through the transparent window.
Captures Memories Both Magic and Mischievous
The mobile monitoring feature opens a pop-up window on your phone whenever your pet enters the monitoring screen, allowing you to watch them eat in real-time. Moreover, there may be moments when you just can't watch the feed in real-time. The camera begins recording and saving videos of your pets' antics as soon as the motion detector picks up any motion.
How Does the PETLIBRO Granary Monitoring Automatic Feeder Work?
At scheduled mealtimes, the feeder springs into action, serving up the precise food portion your cat needs. You can do this manually or using the app. I often use the app to schedule when and how much to feed.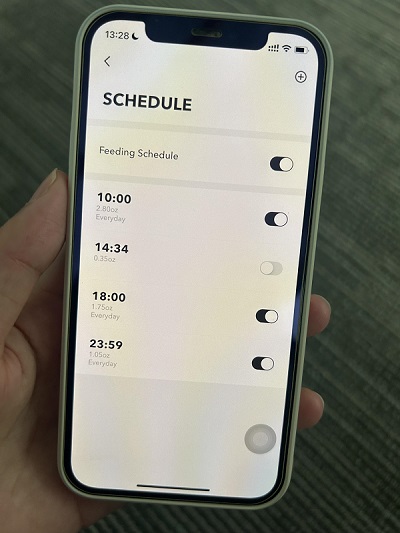 Your cat's meals will be served with a subtle whirring sound, so they won't be startled by loud noises. It's completely safe to store food and use it at a later time. The feeder uses a secure twist-seal lid, a deep spout, and a patented hopper seal to make it extremely difficult for determined cats to get to the stored food.
Despite its cat-proof design, the feeder can be effortlessly disassembled for cleaning. By removing the stainless steel feeding bowl, bowl base, and hopper, you can easily wash it by hand or in the dishwasher. The stainless steel bowl not only simplifies cleaning but also helps to prevent bacterial accumulation and feline acne. The base can be conveniently wiped down with a damp cloth or paper towel.
Conclusion
The PETLIBRO Granary Monitoring Automatic Feeder is an excellent option for people who are frequently away from home and their pets. The camera and microphone help you keep in touch with your furry friends no matter where you are and feed them on time. Don't wait until you're at work, feeling stressed about your pets. Start taking care of their needs in advance, allowing you to relax and show your affection for your pet anytime, wherever you may be.