Water irises are semi-aquatic plants often referred to as bog or marginal plants. As a colorful flowering plant, the water iris makes an attractive backdrop for any goldfish pond. When planted in the shallow margins, the foliage keeps pond predators away. Water iris plants are known to be one of the best aquatic plants to remove toxins from the water. Yellow flag irises are often used in the sewage treatment process to assist in removing metals from the water. The larger the root structure, the more toxins that can be taken out of the water.
Water Iris Varieties
There are many iris varieties, all of which have different growing requirements. Only a handful of iris species are considered hydrophilic (water-loving irises); generically called water irises. To avoid confusion the scientific names of water irises include the following.
I. pseudacorus. (Yellow flag iris)
I. sibirica. (siberian iris)
I. Hexagonae (Louisiana iris)
I. versicolor (Kermesina iris)
I. missouriensis (Rocky Mountain Iris)
I. laevigata (Rabbit-ear iris)
I. virginica (Southern blue flag)
I. ensata (Anytus iris)
I. kimballii
I. setosa
Related Content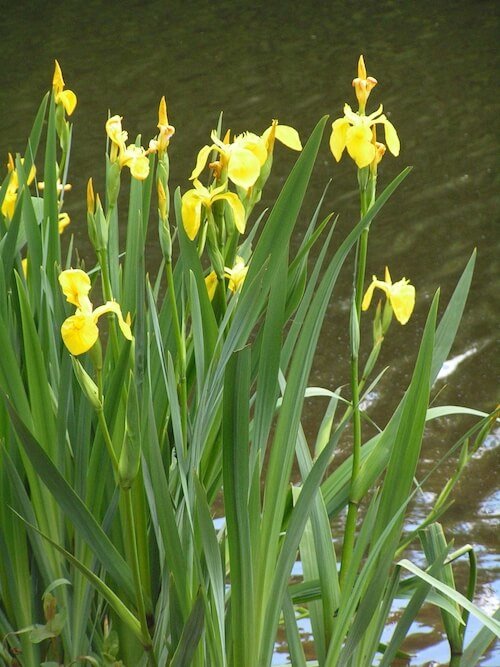 Grow Water Iris
In the fall, plant water iris plants in pond plant baskets that are wider than they are tall and at a depth of up to 6 inches (15cm). This allows the roots of the water iris to spread out but still be confined to the pond plant basket. Roots not in a pond basket can spread like crazy making it harder to cut them back and potentially puncture a pond liner. In a goldfish pond that doesn't contain a liner, water irises can be planted completely out of the water in the wet sandy loam banks of the pond. Some species tolerate periods of dryness but typically prefer to have moist to wet soil year around. Place these plants in areas where they receive at least half to full sun. Fertilize regularly throughout the growing and blooming season.
Divide Water Iris
In warmer climates, new growth can begin in November but normally growth begins in the spring. A water iris plant will bloom in the spring and continue to grow into the summer. Warmer summer temperatures will slow the growth and cause some shoots to dieback. The best time to propagate and divide a water iris plant is after flowering in the fall. This occurs at different times and depends on the hardiness zone. In warmer climates, it's even possible for multiple blooms in the spring and fall. See more on Fall Pond Care.
Remove the water iris from the pond plant basket.
Wash the root clumps to see the root structure more easily.
Separate groups of leaves and pull apart the water iris (a few leaves attached to a small root clump.)
Use a knife to cut back most of the roots and leaving only a few inches of roots.
Cutback the foliage to about four inches tall.
Individually replant the divided plants into pond plant baskets.
Water, top with gravel, and place into the margins of the goldfish pond.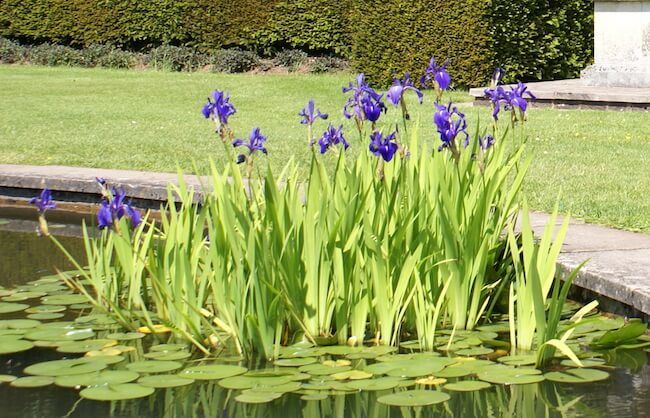 Pond plants can help protect your goldfish from predators

Water irises can also be propagated by the collection of seeds. It's best to collect water iris seeds right after the flowers have died. They should then be sown immediately. You can sow the seeds in a small plastic container or aquarium that contains a layer of damp heavy loam aquatic potting mix. The water iris seeds should then be covered by the potting mix. Seeds should sprout within three to four weeks of sowing. Established seedlings can be transplanted into larger pond plant baskets.
Water Iris Pests Control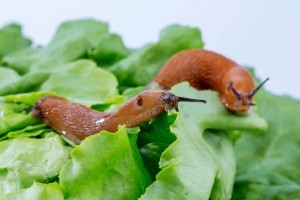 Water irises are susceptible to rust, leaf miners, borers, sunscald, cutworms, snails, and slugs and if planted above water, moles. Remove any dead or dying foliage and use a pond safe insecticide to treat most of these. Rust is a fungus that starts in the soil. By removing infected leaves from the soil will help break the cycle. Sunscald happens with the rhizomes are exposed to the sun; add a layer of soil or mulch to protect them. Cutworms can be removed by using a fertilizer fortified with insecticides.
Buy Water Iris Supplies
|