Selecting Aquatic Plants for Goldfish
Selecting Aquatic Plants for Goldfish
Environmental Factors
Select aquatic plants that will thrive in the same temperatures that your goldfish do, 70 degrees; give or take a few degrees. If you select aquatics that do not like that temperature then they will not grow very fast, or die and rot away.The lighting in your tank or pond should also be a factor in your selection process. It's no different than selecting a spot for your non aquatics, If you have a light on your tank or sunlight on your pond, you can choose ones that require more light. If your tank of pond has low light, then select ones that require low levels of light.Even if there is sunlight on your pond or you have a light on your tank, the depth at what you place them will effect how much light reaches them. Another factor that effects how much light will reach them is what's above them. Floating plants, rocks or driftwood can block out light so you should plan the placement of your aquarium or pond's aquatic plants carefully.Some plants will live just fine attached to a piece of driftwood of buried in the gravel substrate of your aquarium or pond. There are plants that get their nutrients from the the substrate and others that can absorb it through the water they live in. If you find that yours are not doing well but you have followed every requirement to grow them, they might just need a bit of extra help to grow; try an aquarium plant food supplement
.
Goldfish Behavior
The other habit your goldfish will do is digging around on the bottom of their tank looking for food. They will frequently take in a piece of gravel from the bottom and then spit it back out in their search for a snack. This can lead to the aquatics being uprooted. By placing your aquatic plants into small pots that can be buried into the substrate gravel, will minimize the chances that your goldfish will uproot them. Selecting floating ones will eliminate this concern entirely since they are already free floating in your goldfish tank. Another solution to this problem is to purchase ones that can be tied down to driftwood or rocks.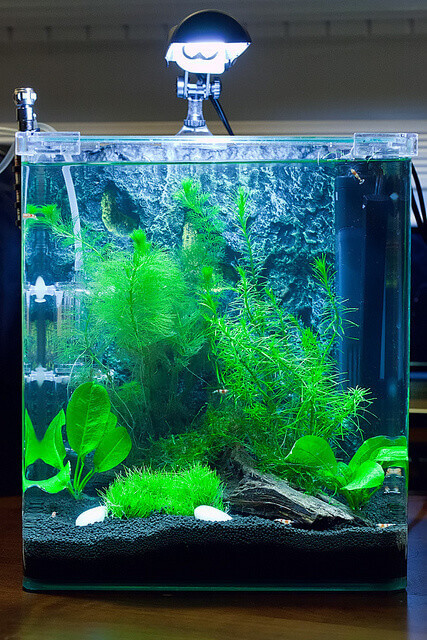 Buying Healthy Specimens
Even if your have good intentions and want to grow pond plants native to your region in your goldfish pond, it's not recommend and in many cases it's illegal to take wild specimens from local ponds or waterways. These plants can contain the grater pond snail that will wreak havoc on all the vegetation in your pond or tank. Mosquito larvae or even parasitic spores can also be transferred through these natives. The greater pond snail lays its eggs on many types of vegetation so it's important to look for any small jelly-like cylinders that contain these eggs. This is necessary to do even if you buy from reputable dealers. Even if they claim theirs to be 'snail free', there is still a chance that greater pond snail eggs are on the plant. Mosquito larvae or even parasites can be transferredAvoid buying any pond plants that have dead of dying foliage as these leaves or shoots will not bounce back and will add to your pond's bioload. Cut back any dead leaves before planting. Each one should have a good balance of roots to foliage. The roots should appear healthy and not rotten.
Planted Tanks by the Pros
|
Home | How to Take Care of a Goldfish | Selecting Aquatic Plants for Goldfish