There's nothing like that giddy feeling when summer is around the corner and it's almost time to pack up your dog's things and head to the beach.
Summer is the best season to have your dog by your side when the weather is warm and the sun is shining bright. Summertime offers loads of activities, adventurous practices, and much more that no dog should miss out on.
If you're looking for fun summer dog activities to enjoy this summer, read below for eight recommendations that you won't want to miss out on.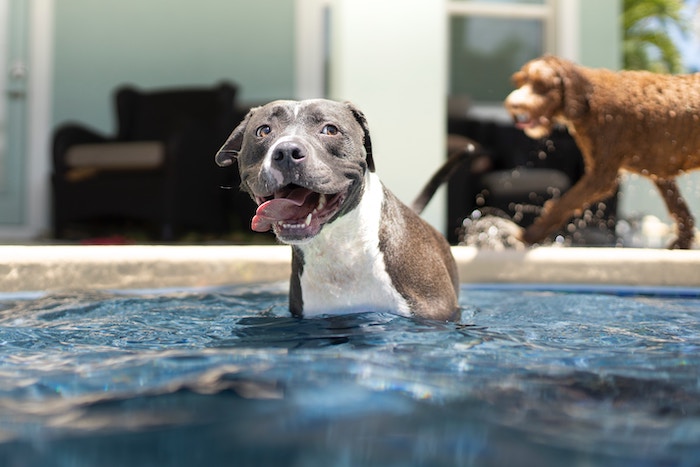 1. Make Dog-Friendly Ice-Cream 
Making dog-friendly ice cream is a fun and creative activity that can be enjoyed by all on hot, sun-filled summer days. It is a great way to combine your pup's favorite snacks into an exciting frozen treat that is both nutritious and tasty. All that's needed is human-grade ingredients like honey, fruit, natural peanut butter, yogurt, and coconut oil.
Once blended, the mixture can be poured into silicone treat molds and frozen until solid. Not only will your pup love this decadent frozen snack, but the whole family can get involved in the creative and cool process. 
2. Have a Sprinkler / Kiddie Pool Day 
A fun way to cool off on hot summer days is by having a sprinkler kiddie pool day! It's easy to set up an outdoor sprinkler and a kiddie pool with some summer toys for your furry family members. It's also fun to have a scavenger hunt with different treats hidden throughout the yard, in the sprinkler, or even inside the pool!
Dogs will love chasing after their rewards and using their smarts to scout out the treats. Just remember to use plenty of sunscreen and provide plenty of cool water to keep your dogs hydrated and safe during their time in the sun. 
3. Throw a Doggie Barbecue
Gather up some of your pet's favorite treats and make sure to include plenty of fresh food options. Grill some sausages or chicken, and don't forget the tossed salad to go along with it. Have plenty of water available for the pups to hydrate.
Encourage other pet owners to join you by bringing their own dogs, and you'll be sure to have lots of furry guests. Set up a fun obstacle course and other interactive games to keep the furry friends entertained in the sun. It's important to make sure all the pets are comfortable while waiting for their meals. 
4. Share Some Summer Fruit 
Start off the day with a brisk walk to your local farmer's market, and pick up some of your favorite seasonal fruits. Apples, cherries, and plums are all great options, but feel free to branch out and try something new!
Once you get home, let your pup have fun playing catch with the fruit as you snack on it. Not only is this an enjoyable activity, but it's also a great way to teach your pup to fetch.
5. Drive-In Movie 
Your pup and you can get out of the house and drive down to the Drive-In for a movie of your choice. The Drive-In provides a great atmosphere that you can share with your pup while watching the movie of your choice in the warm summer night air.
There's plenty of room for your pup to lay down and have fun. You can even bring snacks for your pup and you as the DriveIn provides outside space for grilling and eating. And for extra fun, you can grab a ticket for your dog and even bring a seat for them! So come join the Fun in the Sun at the Drive-In for a night of fun you won't soon forget.
6. Day At The Lake / Beach 
It's time to enjoy some fun in the sun, summer activities at the Lake Beach! Join us for a special Dog Activity Day at the beach! From competitive agility courses to recreational swimming and playtime, there is something for every dog.
Start with a morning "yawn patrol" warm up, followed by a two-legged obstacle course. Then, cool off in the lake with a swim and agility contest. Enjoy a relaxing picnic on the beach with your pup, complete with specially-made snacks and dog goggles for protection.
Spend the rest of the day playing in the sand and exploring the lake shore together. Afterward, everyone will gather to share stories about their sunny day of fun. 
7. Get a Summer Haircut 
Summertime isn't just fun for people. It can be a great time for dogs, too! A fun summer activity for you and your pup is to get a summer haircut. Not only that, but letting your pup (safely) bask in the sun can help keep them cool in the warm weather.
Opt for a shorter, cooler do that won't overheat them and it will take the hassle out of grooming. Make sure to apply sunscreen on more sensitive areas like their nose and ears to protect against sunburns!
After their summer shave, take them on a trip to the dog park or beach for some fun in the sun. It's important to make sure they're never left unattended or around hazardous substances, but they can still enjoy the summer season as much as you do!
8. Enjoy a Picnic Together
Start by going to the park for a few hours, and bring along a special picnic blanket for you and your pup to share. Bring along some of your pup's favorite snacks, along with some food for yourself, and don't forget to bring plenty of fresh water.
Then you can set up your picnic in a spot with plenty of shade to keep you and your pup protected from the sun. Next, play some fun games with your pup. From fetch to tug-of-war, there are plenty of hot weather dog activities to enjoy with your pup that will help you both enjoy the sunshine.
Top Summer Dog Activities to Consider
Summer is the perfect time to get outside with our pups and have some fun! From the beach to the park, there are plenty of activities to keep our furry friends entertained all summer long.
With these 8 Summer Dog Activities, we can enjoy quality bonding time with our pup while having fun in the sun! Try them all before the season ends!