Adding a Fish Tank Air Pump
As Aquarium Decoration
A fish tank air pump is a good addition to your goldfish tank for several reasons. On an aesthetic level, adding air bubbles into your tank can create an eye pleasing effect that will draw more attention to your goldfish aquarium. To create the different air bubble effects with a pump, there are two variables that you should be aware of: the velocity of the air bubbles (how fast the bubbles are pushed out and how fast they rise.), and the volume of the air bubbles (how big or small the air bubbles are). With this in mind, you can create large slow moving bubbles with long intervals in between, or, at the other extreme, a curtain wall of fast moving tiny bubbles.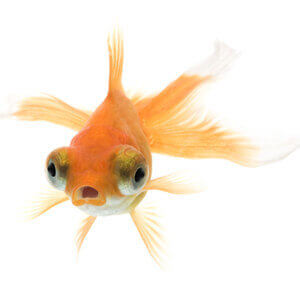 Goldfish Interaction
Now, before you start designing your goldfish's new bubble effects, you will first need to take into consideration the nature of your goldfish in your goldfish aquarium. Are your goldfish small or large in size, and, are they slow moving carefree swimmers or strong active swimmers? If you have small or slow swimming goldfish, you might want to avoid a high velocity bubble stream. These types of goldfish can be pushed around by your tank pump's bubble output. However, your strong swimmers will have no problem with this chosen effect and will even enjoy swimming back and forth through the air bubbles. If you have a mix of different goldfish types to cater to or you just really want to create a wall of air bubbles, place it in the back or along the sides to give your goldfish the option to play in it of avoid it altogether.
Aeration Benefits
By adding an air pump into your goldfish tank, you are doing three things to ensure the health of your goldfish. The first benefit is that you are now adding more oxygen into the aquarium water by forcing bubbles into water. Next, you are also helping to agitated the water surface which breaks the water tension which also increases oxygen levels in your goldfish tank. Lastly, these air bubbles can physically push the water around, creating more circulation in the water which helps with the exchange of oxygen and carbon dioxide.Goldfish need well oxygenated water with good circulation to be healthy and sometimes a large surface area is just not enough to oxygenate the water. This is especially the case if you are over stocked with goldfish or have an abundant amount of live aquatic plants. Over stocking of goldfish is easy to understand; each goldfish needs oxygen and the more goldfish the more oxygen required. The problem with live aquatic plants is that, yes they produce oxygen and eliminate carbon dioxide but at night they stop producing oxygen and will respire carbon dioxide instead. If your goldfish tank is not aerated enough to help eliminate this extra carbon dioxide, your goldfish can die.
Related Content