In the recent past, dwarf hamsters could only be found through professional breeders but as the popularity of these small types of hamster breeds among small pet owners has increased, some of these dwarf hamster types are becoming more readily available at local pet stores. Often it was only possible to buy the larger Syrian Hamster at the pet store.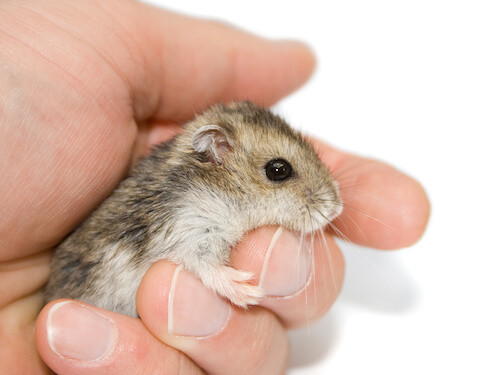 See also: Syrian Hamsters
The Campbell and Winter White are often considered to be Siberian hamsters which also includes a breed called the Djungarian. The Chinese and Robo are considered to be two separate breeds from each other and the Siberian. The exact classification of breeds varies among professionals and breeders and are often interchangeable. In the end, for the average pet owner, it's not all that important. That said though, always ask for a picture of the pet you are ordering if you go through a breeder. You can avoid a mix-up by going to a pet store to personally pick out your new pet. You can also go to animal shelters like the Best Friends Animal Society network to adopt an unwanted hamster. We strongly recommend this option if your local shelters accept and adopt unwanted small animals.
Characteristics and Traits
Adults only grow 3.5 to 4 inches in length (9-10cm)
Weighing 3/4 to 1 3/4 ounces (25-50g)
Limited color and coat variations
Faster and more jumpy than the larger Syrians
Can live by self or in a mixed gender community
Campbell: curious and easiest to handle dwarf breed
Chinese: often shy and loves to tunnel in bedding
Winter White: more vocal and loves to exercising
Robo: awake during the day more than other dwarfs
The Dwarf Campbell's Hamster
The Campbell's dwarf hamster tends to be more curious and outgoing than the Chinese or Robo dwarf. This means this dwarf breed is quick and agile and will spend the majority of its time running around playing or exercising on its hamster wheel. Taking this into consideration and in combination with its small stature, makes it a less than ideal option for small children. In addition, the Campbell's dwarf can be a little nippy when agitated or stressed. You wouldn't want a hard-to-handle hamster for a small child since it could lead to a runaway hamster or just as likely, an injured hamster.
Facts
Over 40 color variations now available
Adults grow to a length of 4 inches (10cm)
Weighing up to 1 and 3/4 oz (50g)
Males are slightly larger than females
Diabetes found in some genetics lines in UK
Life Span of 1.5 to 2 years (3-4 years at most)
Hamster Community
Like all dwarf breeds, you can keep Campbells singly, paired up, or in a small community.
If you do decide to keep a community of dwarf Campbells in a single hamster cage, you should be aware of a few things about how to take care of a dwarf hamster:
Though not as territorial as the larger Syrians, small fights can break out.
Being rather vocal little guys, their scuffles might not be as serious as they appear.
You only need to separate them only if hamsters have visible scratches or cuts (check their underbellies)
Males tend to be easier to house together than females. Separating sexes will avoid unwanted babies.
With mixed-gender communities, litters of baby hamsters will occur every 18 days.
History and Background
The Campbell's hamster (Phodopus Campbell) was first discovered in Mongolia in 1902 by W.C Campbell. Over the years, this draft size hamster made its way into the small pet world. At first, these little guys could only be obtained through breeders, but as the demand for a small hamster increased, local pet stores started carrying them. The Campbell's hamster was the first dwarf breed to be seen in pet stores.
Early on, the Campbell's dwarf was limited to a single color variation, that being the traditional gray back, white belly, and prominent black dorsal line. However, through breeding programs, these little pets now come in almost as many color variations as the larger Syrian hamster breed does. With all the multiple color options available, the fact that it's the largest and thought to be the most good-natured dwarf breed makes it the most in-demand and readily available dwarf hamster breed found in local pet stores.
Winter White Dwarf Hamster
The Winter White hamster (Phodoppus Sungorus) is one of the several dwarf hamster breeds that make for suitable small pets. This breed is also known as the Western, Siberian, White Russian, and even the Furry Footed Hamster. Winter Whites originate from the southern and western portions of Siberia and eastern Kazakhstan where the winters are cold and snowy. They were bred in captivity in the 1970s and have since become available in pet stores but not as available as the Syrian of Campbell's dwarf hamster.
Features
The body of the Winter White hamster round and oval about 3 to 4 inches (8-10cm) in length with a short tail. A fully grown Winter White hamster can weigh 1/5 to 2 ounces (40-60g). It has black eyes, larger than those of the Campbell's. In addition, comparing it to the Campbell's, the Winter White has smaller ears and thicker fur.
The color of this breed is not limited to all white as the name would suggest. In nature, its color is a grayish-brown upper with a whitish-gray belly divided along the midsection with three distinct arches. During the winter months, the fur will become more white. There are also modified color variations but they don't turn colors as the natural ones do.
These colors include:
Sapphire (blue/gray)
Pearl (white with black speckles)
Sapphire pearl (white with sapphire speckles)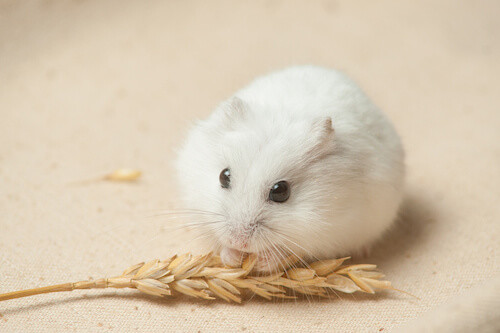 Facts
The Winter White dwarf, even though it's originally from an area where the winter days are short and cold, they do not hibernate. They will sleep longer and wake up later on in the day though. On average they spend less time out of their burrows or hamster houses than the Campbell dwarf; nearly twice as much. Due to the cold nature of their habitat, they live in communities and the males help take care of their young. See how to take care of a hamster for care information.
The Winter White hamster is known to cause more allergic reactions in humans than any other breed.
Russian Dwarf Hamster
A Russian dwarf hamster is a term used to identify the following three varieties of hamsters: Campbells, Winter White, and Robo or Roborovski. They are all referred to as Russian hamsters because of the region they were first discovered in. the Winter White is from Southwest Siberia and Eastern Kazakhstan; the Campbells were discovered by W. C. Campbell in Northern Russia, China, and Central Asia; the Robo lives in the desert areas of Northern China and Mongolia and was discovered by Lieutenant Roborovsky.
While all three breeds of Russian dwarf hamsters are closely related, you should avoid housing mixed genders of different varieties to keep from creating new hybrid species. There is no telling how healthy or unhealthy the offspring would be. It's likely there would be no problems what so ever but to be safe and to keep the breeding lines pure, keep each variety in their own separate hamster habitats.
Caring for This Breed
Russian hamsters, like all dwarf breeds, can be housed together in communities or be kept by themselves in their own cage. There are usually no problems with these communities but sometimes small fights might break out. In these situations, you should separate them for a time being and only separate them permanently if the fighting is intense and there are visible signs of injury. Give your Russian dwarf hamsters plenty of space to run around and escape from any bullying. A larger habitat with multiple habitats and hamster tubes and tunnels will help provide a happier and healthier environment for the community.




Chinese Dwarf Hamster
The Chinese dwarf hamster (Cricetus griseus) is the least attainable type of hamster and it's not often that you will find it available at a local pet store due to its low popularity. While is often referred to as a dwarf hamster but it's actually classified as a rat-like species; it most resembles a mouse. Originating from Mongolia and northern China, the Chinese hamster is adapted well for climbing as this region is rocky and mountainous. These little guys are known to be active both day and night during the summer months.
Features
The Chinese dwarf has certain features that make it easily recognized among the other hamster types. For starters, this breed has a more elongated body shape than the Campbells, Robo, and Winter White hamster. An adult can grow to 4 to 5 inches (10 -12cm) and weigh 1.5 to 1.75 ounces (40-50g). It has a longer tail than these other breeds as well, up to an inch in length. The Chinese hamster has short stubby legs to make its body appear even longer. Its coloring is a gray top, light bottom, and black stripe. However, the most notable feature and probably the reason for its lack of popularity is that the male species have very prominent sex organs; about the size of its head.
Caring for This Breed
You can keep a community of these in one hamster cage but when a female Chinese Dwarf is pregnant, it can become aggressive towards males. If the males don't have a way to escape this wrath, the female can kill the males. Provide plenty of hiding places as well as dwarf-sized tubes and tunnels to connect different living chambers. This should ensure the safety of all the hamsters in the cage. Learn more about how to take care of a hamster.
Roborovski Robo Dwarf Hamster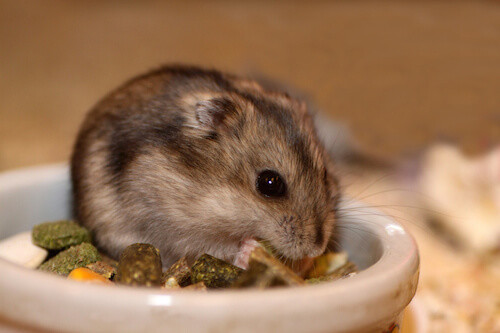 The Roborovski dwarf hamster (Phodophus Roborovski) originates from the deserts of west and east Mongolia, China and Russia. It's a hamster breed that has been sold as pets in pet stores since the 1990s. However, the Robo hamster is less available than the Campbell's or the Golden Syrian hamster breeds.
Features
A fully grown adult Roborovski is 3.5 to 4 inches long (9-10cm).
Weighing between .75 to 1.5 ounces (25-40g).
The Robo is less full bodied than the Campbell's.
Brownish yellow in color with no dorsal stripe.
The life span of this dwarf breed is around 3.5 years.
Caring for it
Like all dwarf hamster types, the Robo can live in communities or separately. Small fights might occur but they only need to be separated if the fighting is serious. As a small type of hamster, the Robo is fast and hard to handle. They are not suitable for young children but can be tamed well. It's also important to purchase dwarf-sized hamster accessories so these little guys are not injured by hard-to-use wheels, balls, or tubes and tunnels.

Don't be alarmed if you notice your pet Roborovski sleeping longer than other types of hamsters. This is not an indication of your pet being sick or even bored; they are simply known to be the late risers in the pet hamster world. Their most active period is during the late evening around 9 to 11 pm.

Robo Hamster Habitat

|