Dogs can be an excellent companion for the elderly. A dog will give a senior citizen a lot of friendship, love, and entertainment during their golden years. Many seniors thrive when they have a fur baby to love and take care of. Since dogs need care every day, many seniors find themselves more active and productive than they usually would if they didn't own a pet. A furry buddy is often a good idea for the senior who lives alone and needs protection from strangers and thieves.
However, not every senior should decide to adopt or buy a pooch. There are a lot of factors that must be considered when making this important decision. Certain breeds of dogs are more suitable for this age group than others. It's significant to understand the needs and abilities of the senior before making such a huge decision.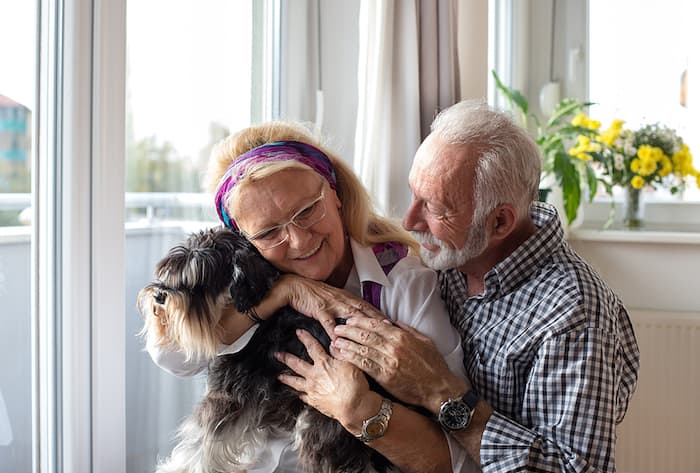 What To Expect?
Owning a dog is a huge commitment, no matter how old you are. For an older adult, a canine may even be too much to handle. No matter what kind of dog a senior gets, there will be a lot of responsibility concerning ownership. Seniors should expect to spend a lot of time with their mutt, especially when the dog needs exercise. They should only get a fur buddy if they have plenty of fenced-in property for the dog to run free on, or if they can take it on regular walks every day.
Dogs are social animals who require attention and love from their owners. If a person is not in the position to provide attention to an animal every day, then they may want to rethink getting a fur baby – otherwise, getting a hairy member of the family can be a wonderful addition to the home.
How To Choose?
Choosing the right pooch for a senior will depend on a number of factors. You'll need to understand their abilities and needs before matching them up with a specific breed.
To begin, talk to the senior about what he or she is looking for. This will ultimately be their pet, so their wishes should be front and center. Find out what they want to be their forever buddy. What does the dog look like? Do they have concerns about caring for the dog? Are they excited? Remember, the senior should be completely on-board with the idea of a new pet. Never surprise a senior with a dog, even if you think they can handle it.
One of the most important factors concerning pet ownership is the mobility level of the senior. How strong are they? Can they commit to all of the responsibilities that come with owning a canine? If the senior is still active and agile, then they are likely able to take care of a larger dog that needs a lot of exercises. If they cannot walk for long distances and don't have a lot of physical strength, then a smaller, calmer mutt may be a better idea. Another great type to consider is a trained older dog. Coached hounds are more relaxed, disciplined and easier to manage.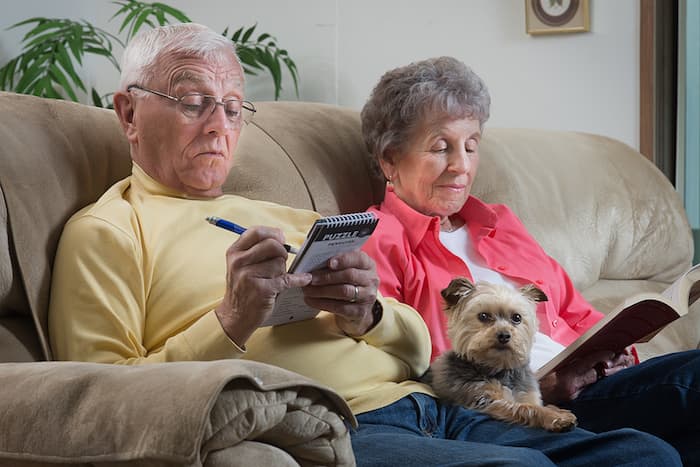 It's very important to be realistic when choosing a hairy friend for an elderly person. A pet that demands a lot of physical activity will only set them up to fail if they cannot keep up with him or her. Additionally, a senior shouldn't get a dog if they are dealing with severe medical problems or if they are a high fall risk. Always research the energy levels of the breed. Make sure the animal matches the senior's physical activity level.
The next step is to find the right type of buddy for the senior's living environment. Larger hounds need more space to run and play, so a small apartment or condo won't be the best choice. However, a smaller puppy may be just fine in the same space. If the senior is living in an assisted living facility or another type of care facility, they may not even be allowed to have a pet.
Cost is another huge factor when it comes to owning our favorite animal. Many senior citizens are on a fixed income. If they don't have the extra money to take care of a dog, then it may not be a good idea to get one. A small pup might be less costly to feed, but there are still grooming costs and vet bills to consider. Regardless of the size of the animal, every dog will still need veterinary care, such as blood tests, shots, heartworm medication, and dental care. If there is an emergency, will the senior have the money to cover an emergency vet visit? These questions should all be considered before a senior accepts a new hairy friend into their life.
Related Reading
Dogs that Don't Bark
Most Popular Breeds
More Tips
Research breed care requirements. Smaller puppies are usually easier to care for.
Set up a meet and greet between the senior and a pooch. Make sure they spend some time together before bringing the fur baby home. The personality of the dog should somewhat match the personality of the senior.
The right four-legged buddy can make an amazing companion for the right senior. Knowing what to look for in a dog and what to expect will make the experience a much easier one.