Author: Allen Brown>
Bringing a new dog home is joyful news for you as a pet owner. It means you have a new companion or family member to introduce into your house. You may have prepared the dog's basic needs, and you may have already set your home's interior to be welcoming and hospitable to your new furry friend.

Even if your dog mostly spends its time inside your house, it still needs a wide and comfortable outdoor space where it can occasionally run around, get some fresh air, or play under the sun. Some dog owners often take their pet's outdoor space needs for granted, only to regret it later when their dogs become unhealthy. Just like humans need to have occasional outdoor activities, dogs need outdoor time as well.
We will share here some tips on how to prepare your yard for your pet dog.
Select the Right Fence Material
You will need a sturdy fence to keep your dog within your yard to keep an eye on them and keep them safe from other dogs, wild animals, and other hostile elements. The protection dog fences should provide ideally should apply both ways – keeping your dog tucked within your reach and also keeping the dangers outside from harming your dog. Your fence material can depend on the size of your yard, the area you want to limit, and the budget you set aside for your dog's fence. While your regular yard fence can already do a decent job of keeping your dog within your home's premises, there are certain areas you want them to keep out or not have access to such as your pool, garden, patio, furniture, or tool/garden shed. Wood is an affordable and sturdy material that can keep your dog within a secondary perimeter but can take up some space from your yard. Metal chain links are also affordable, and space-saving materials and are ideal for homes with small yards.
Choose the Right Fence Type
It's not just the material you have to consider for your dog fence but also the type of fence you are going to build. Consider your dog's size, temperament, and agility when you think about the kind of fence you will build around your dog. Small and medium-sized dogs can be kept inside 4 to 5 feet tall picket fences. If your dog is agile or athletic, scaling a picket fence is not impossible for them, so smoothen the inner side of the fence by placing plywood. Invisible fences are easy to install, and they help train dogs to stay within their cordon through sensors attached to the fences and collars worn by your dogs. The collar can send minor corrective static shocks to remind dogs not to overstep the boundaries that are set around the house. Once your dog gets the gist of how the invisible fence works, it can move around the yard more comfortably and will not go outside the yard without your permission. Chain link fences give more freedom of movement and sturdy protection for your dog by making their vision free from obstruction. They can still see sights around them, and they are kept securely inside. Dogs may often try to dig their way out of the border, so put chicken wires under the fence to keep them from digging out.
Choose Areas Where You Can Monitor Them
Like we mentioned before, depending on how your yard has been set up, you have the choice of letting your dog run around freely within the entire yard or set limits or boundaries on some areas. If your lawn is pretty all grass, shrubs, and trees, then you can let your dog roam free in the yard. If you have an outdoor workshop, a garden or nursery, or a pool in your yard, you'll need to keep your dog out of these places for your convenience and their safety. Dogs are curious creatures and they can easily get bored. They will try to explore their surroundings and venture to places they haven't been to before to relieve their boredom. Workshops and sheds can be dangerous places for dogs, as there small objects that are choking hazards, sharp and pointed objects that can injure them, and other hazards. Gardens should also be off-limits to keep your garden from getting ruined and to prevent poisoning and allergic reactions of your dog from ingesting or getting contact with some garden plants. Pools also should be out of their reach because even though dogs are excellent swimmers, they cannot get themselves back to the surface. If you have a porch or deck in your home, place your dog fence around it so that you get a good view of the yard and the area where your dog stays outdoors. If you want the fence to go around your house, make sure that most of the area can be seen through the windows for easy monitoring of your dog.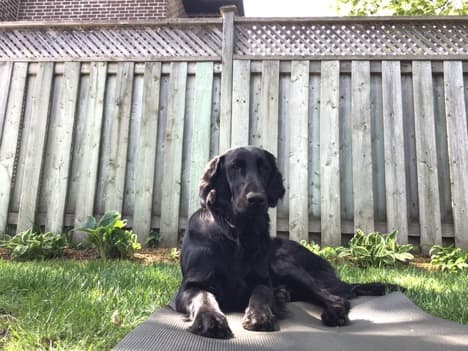 Preparing your yard for your dog takes more than just building fences. It also means caring for their well-being by removing hazardous materials and placing toys and objects they can safely play with. Letting them outside and having them go running in the yard gives them a sense of ownership and territory over a part of your yard. When your dog grows in a nurturing environment, they grow healthy and stay closer to you and your family.
Further Reading