If you're thinking about sharing your bed with your pet, you're not alone. A 2010 survey found that 56 percent of dog owners slept with their dogs in or on their bed. Cats have it even better with 62 percent sleeping in or on their owner's bed.
If you're undecided here are a few pros and cons to think about.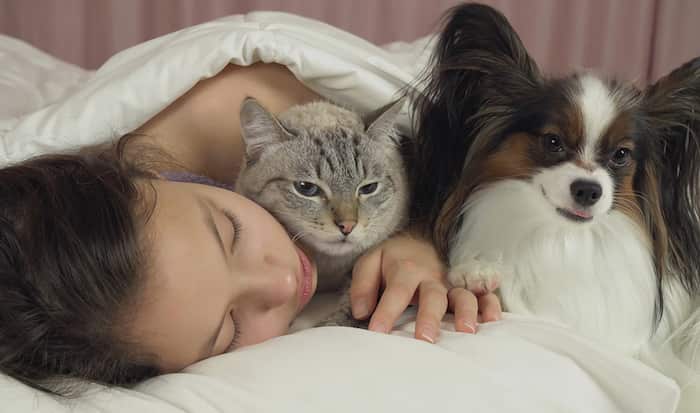 Pros
Safety
Safety is one of the number one reasons people share their bed with a dog. Many people assume their dog will let them know of danger like an intruder or fire. People who live alone often rest easier knowing they have someone else to watch their back while they sleep.
Better Mental Health
Stress, anxiety, and depression are common causes of insomnia. A study conducted at Miami University found that pets can fulfill social needs without competing with your human relationships. Your feelings towards your pet may rival those you have for a best friend, making them a part of your social support system. It's also been found that touching your pet can cause the release of oxytocin, a hormone that stimulates feelings of love and compassion. Together, these effects can help improve your mental health so you can sleep easier.
Comfort
Did you sleep with a stuffed animal as a child? Pets are like the ultimate security/comfort blanket. For those who live alone or whose spouse frequently travels, another body in the bed adds warmth and companionship at night. To sleep comfortably, you might need to order a larger mattress to accommodate you and a pet, especially if your Great Dane really wants to snuggle.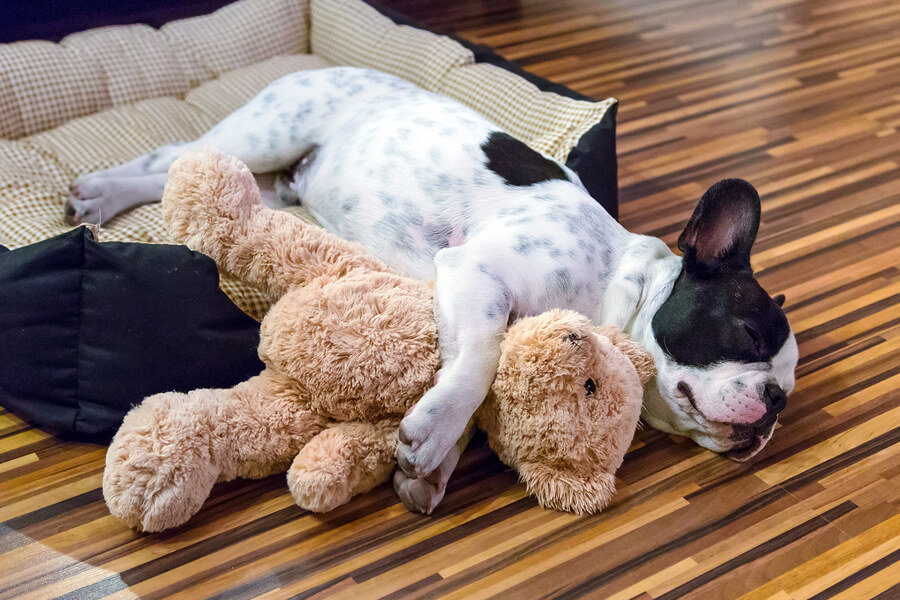 Related Reading:
Pet Fences for the Yard
Your Gide to Owning Dogs
Installing a Doggie Door
How to Care for Cats
Cons
Germs and Bacteria
Pets are going to bring extra germs and bacteria into your bed. Now, you'll also have to consider that if your pet is inside anyway, those germs and bacteria are already in your home. However, pets that spend any time outside could bring in extra debris and fecal matter. You have to decide if you're okay with that. For your health, you should also make sure your pet is up to date on vaccinations as well as flea and tick treatments.
Allergies
Many people successfully keep pets even though they have allergies. However, prolonged nighttime exposure to allergens can aggravate your symptoms. Breathing problems can reduce the quality of your sleep, leaving you tired the next day. Fur and dander can get attached to almost everything from the bed frame to the curtains. If your allergies get triggered at night, it can make them worse during the day too.
Sleep Deprivation
Pets dream and change positions during the night like humans do. If you're trying to share a bed with a partner and a pet, you all might end up running into each other far too often. Both you and your pet need sleep for optimal health. Of course, you might be able to come up with a solution to bed-sharing problems. Your pet could have a designated space at the foot of the bed or a pet bed kept on the floor. Your pet will still be nearby, but everyone will have their own space.
After you've weighed the pros and cons, it's time to jump in with your decision. You'll know you've made the right choice when you and your pet are both happy and well-rested. Whether that's sharing a bed, bedroom, or staying separate, you can still have a strong bond with your pet.