As the world returns to life on a more "normal" scale, more and more businesses are requiring their employees to return to the office. As you spend less time at home, you're probably wondering how your dog will get the exercise they need, especially if you adopted your pup during Covid and don't have a yard for them to run around in! Here are some tips for finding a good dog walker.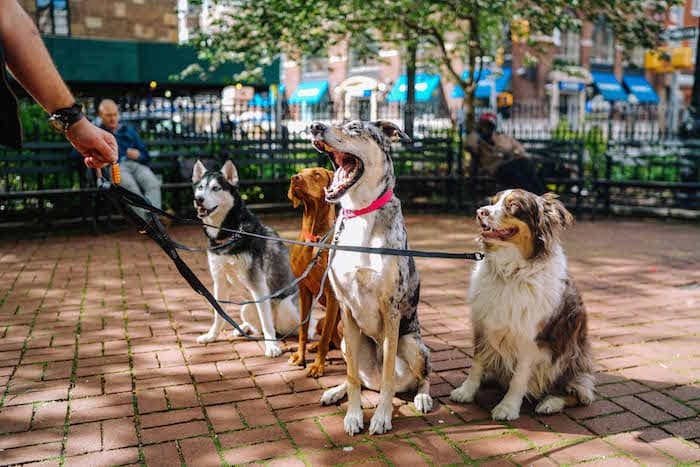 Make sure you have everything you need. You'll want to be sure that you've gotten everything you need for your dog. Whether that means you've gotten an updated set of dog ID tags or you've found them a pair of dog shoes to wear on the hot sidewalk, ensuring your dog is well prepared for their dog walker will go a long way in finding the right one.
Look for someone professional. Some people will start walking dogs just to make a little extra cash, and others will start because they love animals. And, while those are great attitudes to have, it's important that you look for someone who is actually knowledgeable on dog behaviors and is familiar with dogs of different sizes and breeds. Some dogs suffer from a condition called "brachycephalic airway syndrome," which is caused by dogs who have flat faces, such as pugs or Boston terriers. Because of their flat faces, dogs with this condition can suffer from a variety of ailments, including a low tolerance for exercise. It's important to find a dog walker who is aware of conditions like this because it means they're more likely to pay careful attention to your fur baby.
Figure out how much you're willing to spend. Some dog walkers, especially the ones who have had years of experience and have trained for hours and hours, will charge a pretty penny. However, others, especially those who are relatively inexperienced, might be more willing to settle for a lower price because they need the experience. Your budget will guide you in choosing a dog walker. Of course, you shouldn't ever ask someone to provide you a service for free, but you know your budget best. If you're serious about hiring a dog walker, then you'll be able to judge best how much you can afford.
Ask them to come in for an interview. Of course, in the post-Covid age, you might still want to host this interview virtually, but you should still hold one. This person will have your fur baby for a prolonged period of time, so it's important that you get them to come in for an interview. You'll want to ask them questions about their experience, why they are a dog walker and what they're hoping to get out of walking your dog. Having the dog walker come in for an interview will also give you an opportunity to gauge the dog walker's personality. While you obviously want someone professional (they are doing a job, after all), you also want someone who's personable and you feel will have a good personality with your pup.
Understand it might take a while. Finding the right dog walker might not be the easiest task. Just like with finding a babysitter, you'll want to find the right fit for your dog. The right dog walker might not appear right away. That's okay! Just don't go into the process thinking you'll hire the first dog walker you meet. Not everyone is the right fit for your pup, and it's your job as a dog owner to ensure you find the right one. If that takes a little longer than expected, don't stress about it too much.
Consider using a dog walking service. There are many professional companies that include a network of dog walkers. The good thing about going through one of these dog walking services is that the employees are vetted. They've passed background checks, have trained through the company and probably have some additional experience outside of the company. This will give you some peace of mind, and it'll save you a lot of hassle from scouring local ads for dog walkers.
How to Prepare for Your Dog Walker's First Day
If you've gone through the process of hiring a dog walker and you have found someone you feel is right for the job, there's a few things you'll want to do for their first day!
Put out all the necessary items for your dog walker. Write out phone numbers, place out your dog's collar and leash set and leave out any information about your dog's medications they need throughout the day. Giving your dog walker all the necessary items they'll need to take good care of your dog will go a long way to ensuring there aren't any hiccups once your dog walker arrives.
Decide whether you're giving them a key. You'll want to determine how your dog will end up with the dog walker. Will you take your dog to their home? Will the dog walker come to your place? It's important to work out those details now so that you don't get frustrated on the day of.
Set up a meet and greet. You'll want to give your dog walker and your pup a chance to meet before their first day! Set up a meet and greet between the two approximately a week or two before your first dog walk. This will help your dog feel comfortable with the dog walker and recognize them when they come over to take them out for their walk. Getting your dog walker familiar with where your dog's toys are and other items will help your dog adjust to them, too. When your dog sees the dog walker knows where to go, they'll feel more comfortable.
Getting a dog walker for your dog is a great way to help them get acclimated to your post-Covid routine. Your dog will be so glad to have a new playmate to spend time with while you're at work!
Further Reading